What do you call a baby...? is an entertaining way for all children to learn the nouns that describe some of our iconic Australian baby animals.

Baby frogs are called tadpoles, but what do we call a baby goanna, a baby eagle, or a baby echidna? This stunning title introduces young children to their amazing names — hatching, eaglet and puggle.

Bin Salleh's exquisite illustrations and pastel colour palette captures the tender bond of an animal 'parent and baby' and makes this little book a truly delightful journey of discovery.
Dingo is headed somewhere looking excited, and the other animals want to know where he's going. Dingo won't say, so the others follow along in hot pursuit – two nosy numbats, three flying frogs, four burrowing bilbies … The animals are in for a surprise when Dingo's final destination is revealed on the last page.

As well as being a counting book, this is a seek-and-find story. There is one aboriginal artefact plus one non-native animal on each colourful spread
These simple two piece puzzles feature beautiful vibrant images of Australian animals, as well as their name. They are a great introduction for young children to a variety of animals, some of which they might already be familiar with, as they can be found in or around our neighborhoods and towns.
Furry - a collection of furry animals from land, sky and sea. They include a brushtail possum, koala, quokka, quoll, bat, wombat, fur seal, kangaroo and echidna.
18 pieces - approx. 11.5 x 5.5cm ($3.20/pair)
2 yrs +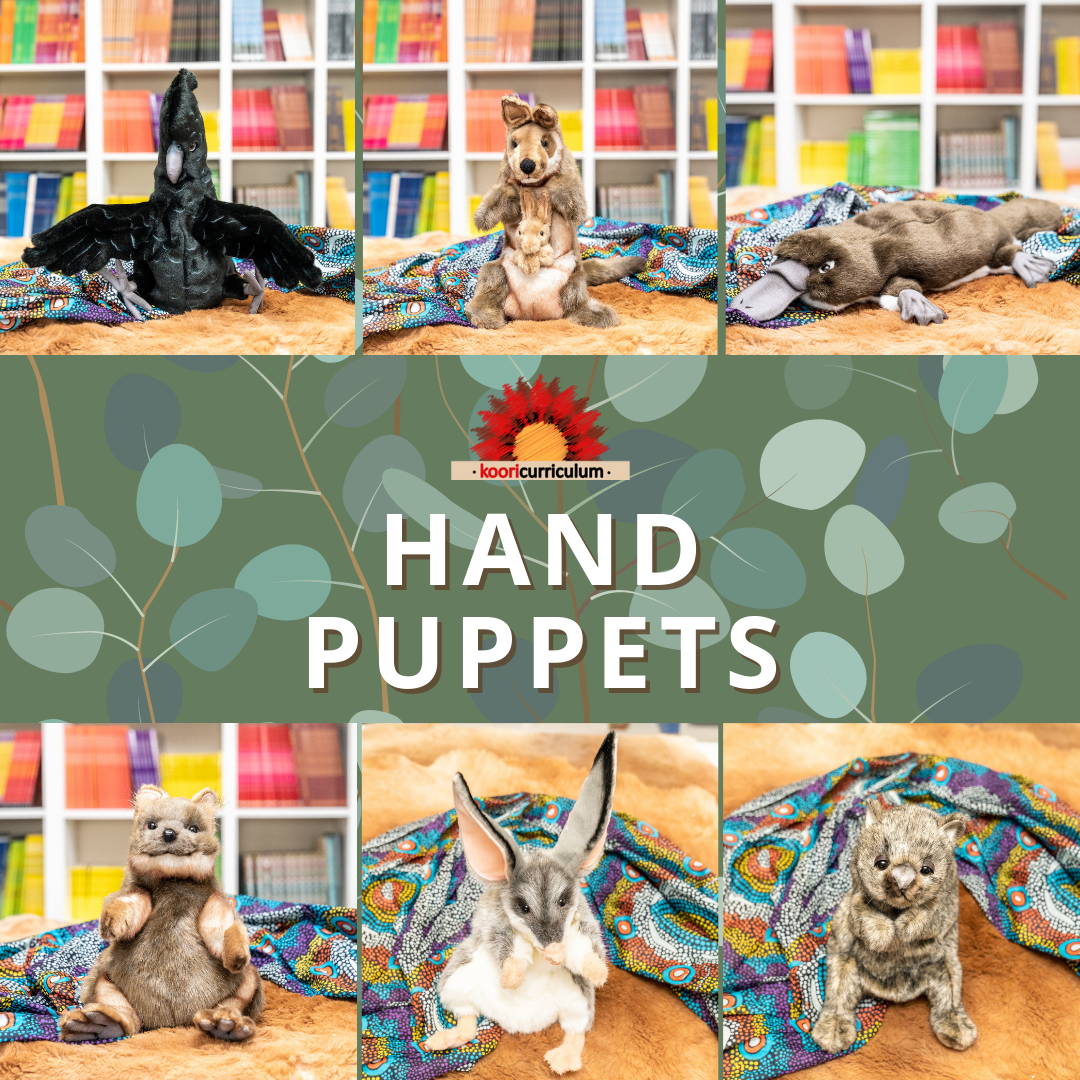 Hansa is renowned the world over for it's true to life recreations of the worlds most loved animals.
From the Australian collection, we have a broad range of Australian animal puppets that will snuggle into your little ones arms and light up their heart.
Designed with wildlife experts and brought to life with meticulous attention to detail our adorable Australian animal Puppets are perfect for developing motor skills, hand-eye coordination, communication skills, self-confidence, and social-emotional connections.
Featured in our travelling mascots program  these stunning plush toys are perfect for embedding an Aboriginal perspective in the playroom and at home.
Meticulously made with incredible attention to detail your little one will find their favorite to bring home and wrap in their arms
Perfect for ages 3 and up, supervision recommended for children under 3 years old.