We were so lucky to have Kwowka come to visit us at Canning Vale Prekindy. Our Prekindy is on the land of the Wadjuk people of the Noongar nation and the children were excited to discover that Kwowka is from Wadjuk boodja (country) too.
The children had lots of questions for Kwowka and got a lovely surprise when Kwowka answered their questions in Noongar language. They were keen to share all the Noongar language they knew too.
We looked at the map Kwowka brought and when the children discovered that Wadjemup, where Kwowka is from, is the Noongar name for Rottnest Island they had lots of stories to share with Kwowka about going to Wadjemup.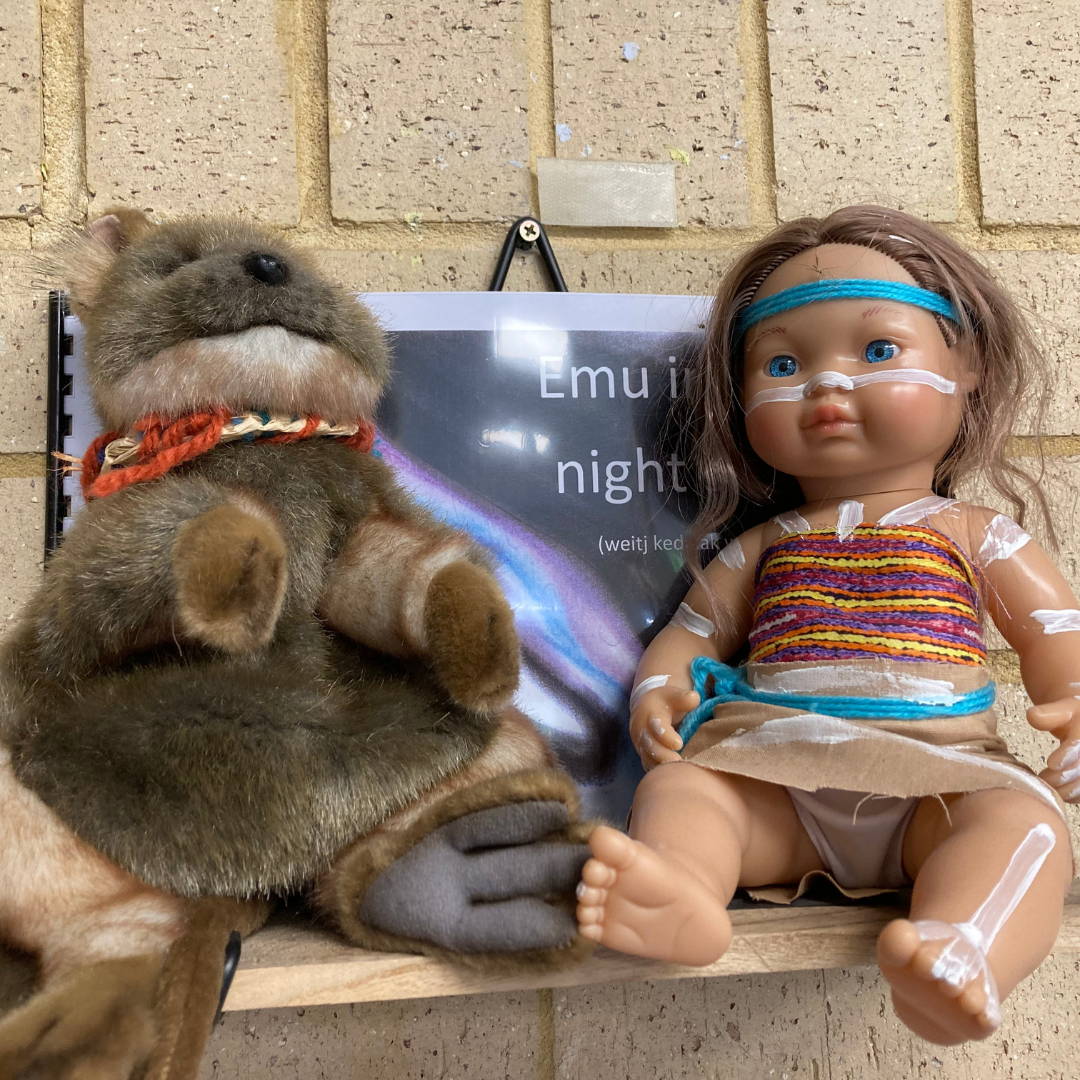 ---
We introduced Kwowka to other animals from Noongar boodja we have at Prekindy and to our friend Mika – Noongar yok (girl) whose name means "moon".
The children sang Kwowka some of the songs they knew in Noongar language including Nidja Noongar Boodja Koort by Honey Webb – the song we sing to acknowledge Noongar people as the first custodians of the land our prekindy is on and Wandjoo my Friend by Uncle George Walley.
(With Uncle George's permission we changed the words a little bit to include Kwowka in the song.)
---
Kwowka came outside with us so we could share stories of our favourite things about the boodja our Prekindy is on. We had a visit from the Koolbardi (magpies) and Djiddee Djiddee (Willie Wagtail) who must have been saying "Kaya" (hello) to Kwowka.
We let Kwowka explore our bush tucker garden in case they was a little hungry!! We've been learning about the 6 Noongar seasons all year.
When Kwowka visited it was the end of Djilba, when the wildflowers are just starting to bud and bloom. We showed Kwowka our Bindi Bindi and Djilyara (butterfly and bee) garden.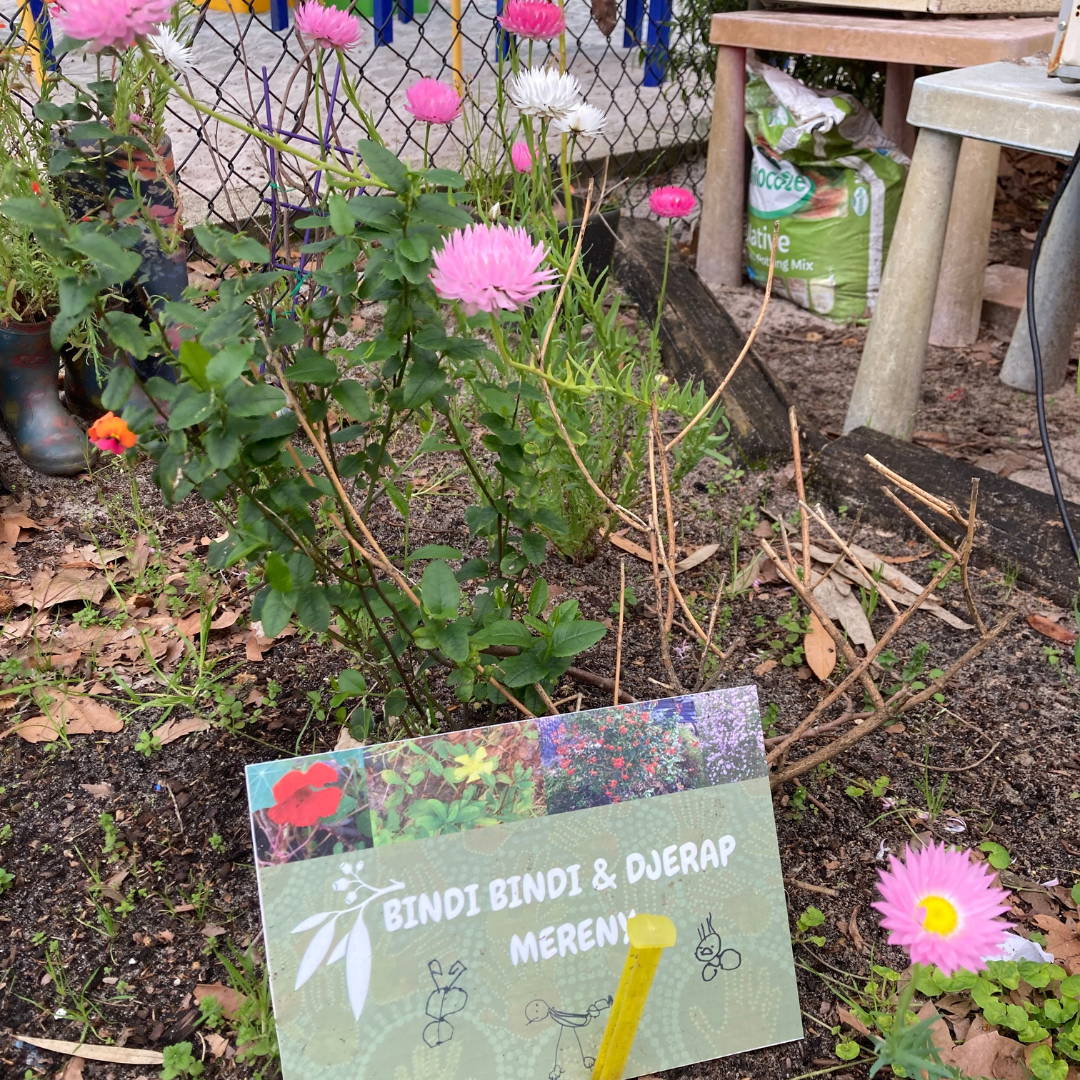 ---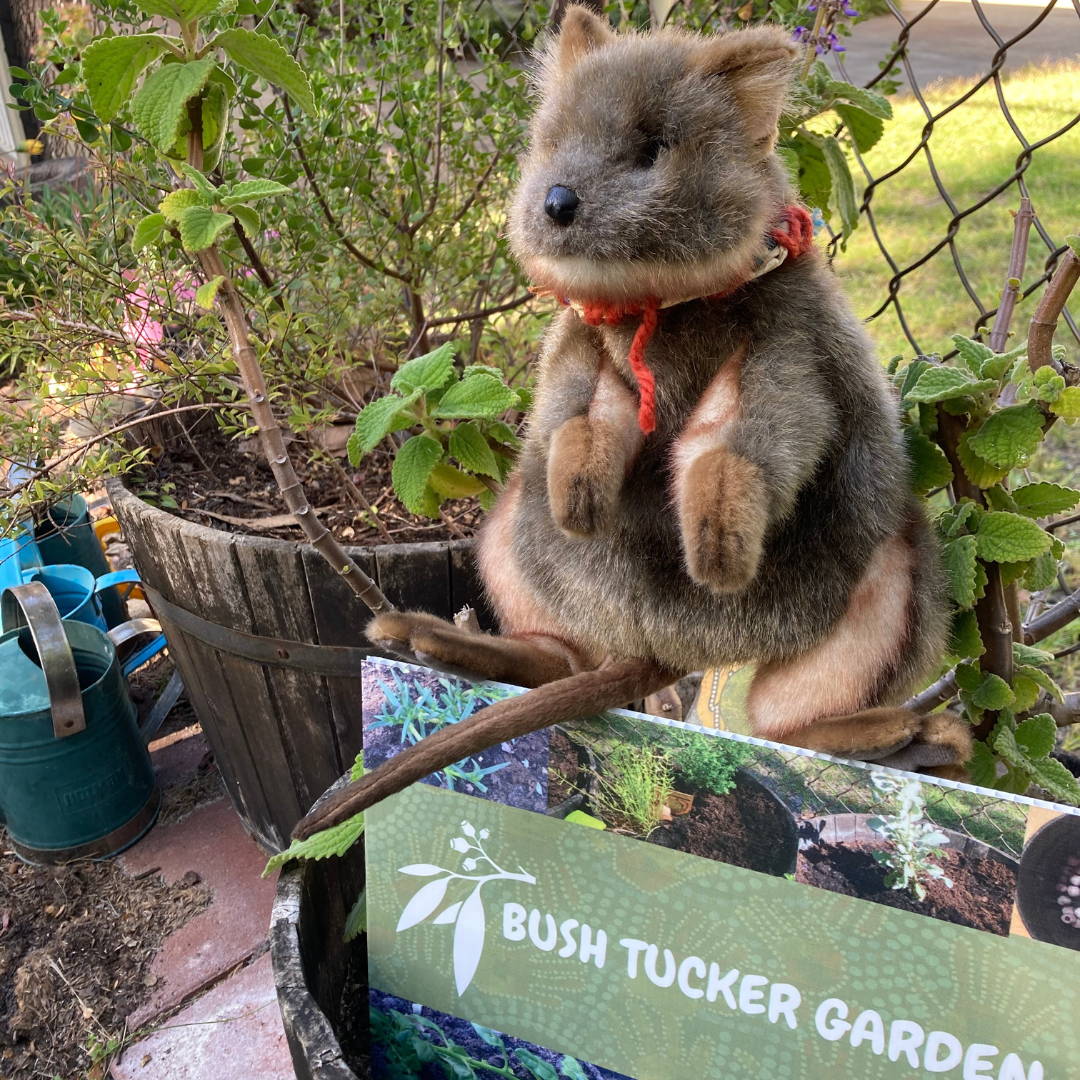 We don't pick the flowers in this garden because it's mereny (food) for the butterflies, bees and birds.
We also showed Kwowka the basket we hung in the tree full of things they could use to make their nests and how excited we were when we saw a wadjerak (red wattlebird) flying away with some red wool in their beak!

The children were sad to say Boorda (Bye/later) to Kwowka but will be looking out for new adventures they have visiting other children.
---
Hansa is renowned the world over for it's true to life recreations of the worlds most loved animals.
From the Australian Native collection, this happy little Quokka has been hand crafted in partnership with wildlife experts and brought to life with meticulous attention to detail.
The Quokka's luxuriously soft faux fur has been carefully hand trimmed to highlight the Quokka's famous smile. A wide mix of high-quality fabrics have been seamlessly blended to perfectly capture each of the Quokka's iconic features. The adorable ears have been highlighted with textured fabrics and fine airbrushing.
The two tone, super soft fabric on the belly of the Quokka features highlights that capture the light and are seamlessly blended with airbrushing. This full length hand puppet even includes the quokkas famous little tubby tummy! The immeasurable care put into creating this life like Quokka is only a fraction of the love it is bound to receive from its lucky owner. You can even grab your own selfie!
---
---
---