Discover the sounds of Australia through the incredible artwork of Aboriginal artist Ryhia Dank.

The All Around Us series is a captivating collection of first concepts board books, told through simple narrative.
This CD is a wonderful mixture of songs created for children, families and educators. A heartfelt album filled with love and deep respect. NGAMA in Wiradjuri language means Mother. In honour of her Mother, Sharron sings in Wiradjuri language sharing old and new memories.

Throughout the album you will see and hear messages that connect to Sharron's mother, to whom this CD is dedicated. Can you find the little green tree frog? Mummas favourite little creature. Can you hear him sing? Can you hear the shakers? The Cootamundra wattle seed picked from wattle trees at Coota, where Mum was born and raised. Listen to the river and Mother Earth's creatures as we place our hand upon our heart, let us pay respects to the Sovereign people and the land North, South, East and West.
A unique picture book collaboration about having fun, sharing culture and the power of story and dance. A picture book to get the whole town dancing.
Adapted from Briggs' celebrated song 'The Children Came Back', Our Home, Our Heartbeat is a celebration of past and present Indigenous legends, as well as emerging generations, and at its heart honours the oldest continuous culture on earth.

Readers will recognise Briggs' distinctive voice and contagious energy within the pages of Our Home, Our Heartbeat, signifying a new and exciting chapter in children's Indigenous publishing.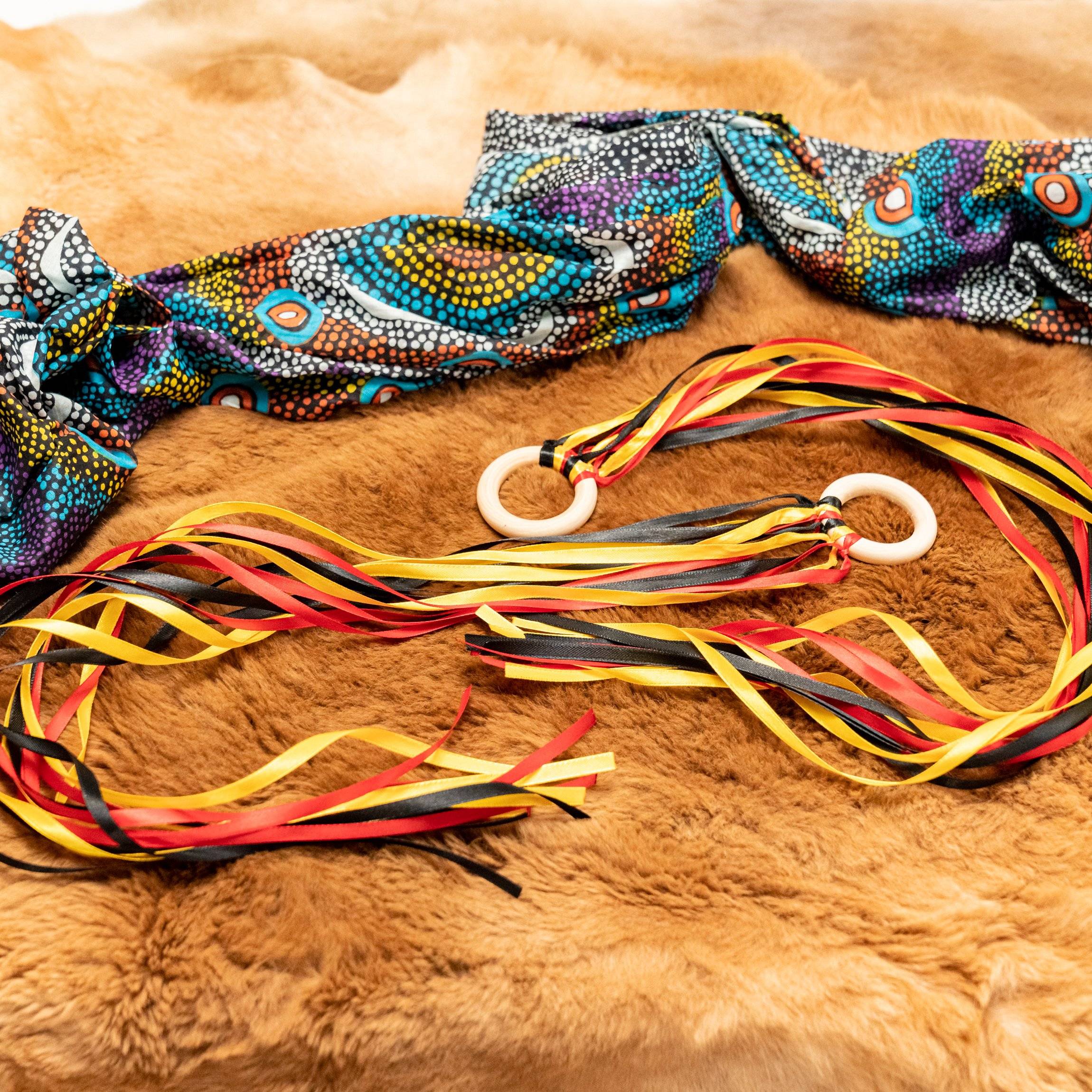 These hand kites can be played with inside or out. Children can run, dance, spin and shake. The satin ribbon floats through the air.
The ring is 5.5cm (outer diameter) perfect for little hands with the ribbon 70cm in length.
The set includes:
2 x Aboriginal Inspired hand kites (black, yellow and red)
Dancing Scarves - Aboriginal
These dancing scarves can be played with inside or out. Children can run, dance, spin and shake. The light chiffon scarves float through the air.
The scarves measure approximately 65cm x 65cm.
The set includes:
3 NAIDOC inspired dancing scarves (black, yellow and red)