Today we read the beautiful book "Who saw turtle?" By Rod Moriarty illustrated by Balarinji.
It follows the journey of a little turtle through the ocean to the beach where she will lay her eggs and documents the other sea creatures she encounters along the way.
---
Toby and Olly used their turtle finger puppets to swim their own turtles through the pages as we read.
Olly (aged 3 years) especially loved the bright illustrations and colourful pattern and dot art used to create the sea animals and ocean landscapes.
---
He also enjoyed the simple wording and easy to follow storyline and asked me to read the book again straight away.
This cute and colourful story has fast become a bedtime favourite.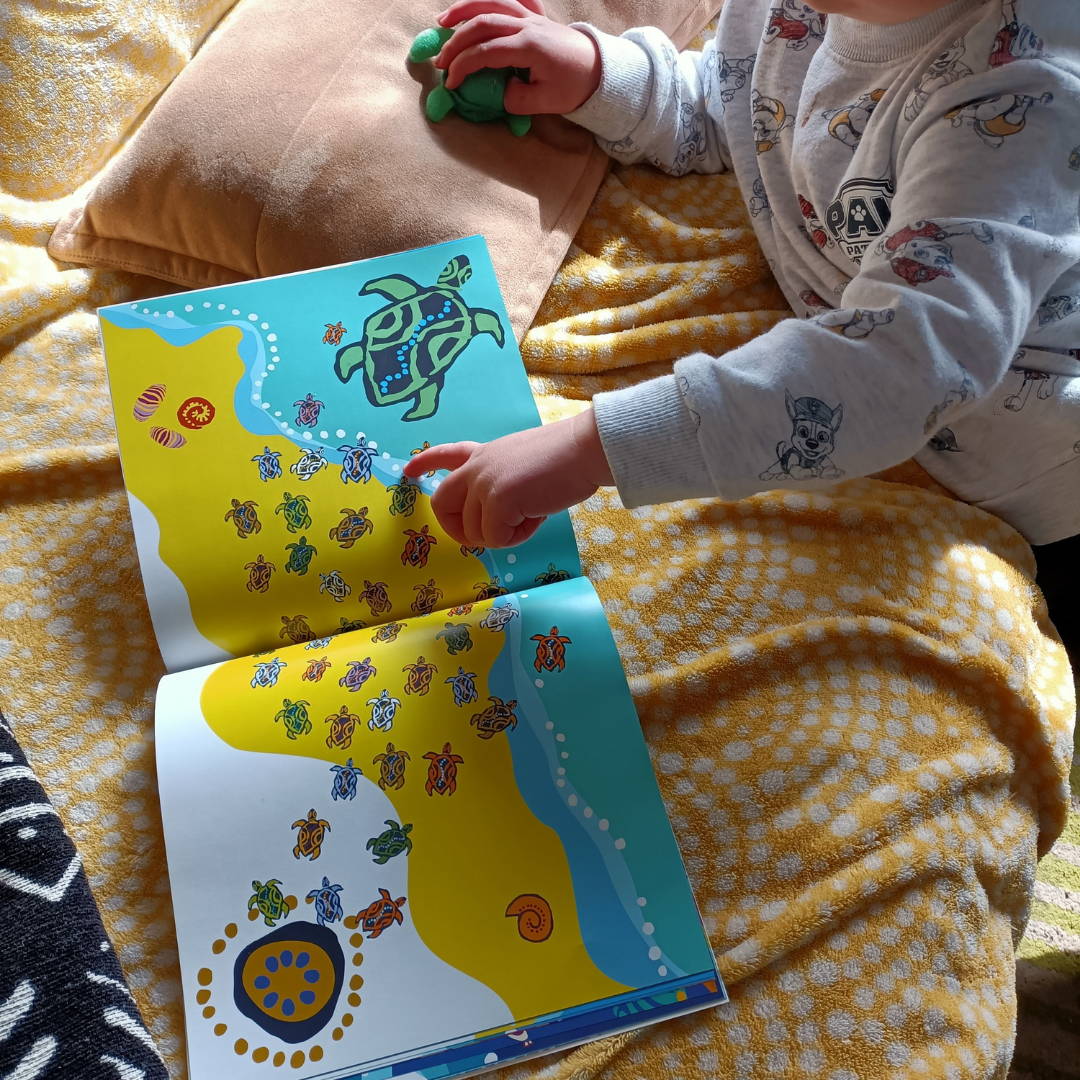 ---
---
A simple story for the very young that tracks the amazing migration of turtles featuring vibrant Indigenous artwork by Balarinji.
Who saw Turtle? Did the whale with the slapping, splashing tail? Or the octopus with the dangly, stretchy tentacles? Maybe the fish with the glittery, shimmering scales?
A glorious exploration of the amazing migration of Turtle as she travels the world and then returns home to lay her eggs, illustrated by Balarinji, Australia's leading Indigenous design studio.
Ros Moriarty, author of the acclaimed memoir Listening to Country, is also the founder of Indi Kindi early literacy education.
---
---
The Koori Curriculums Turtle Finger Puppet is a great low cost affordable prop that can be used in multiple ways to embed Aboriginal perspectives in play and in early childhood curriculums.
This resource is open ended and the possibilities for play are endless. We recommend using the turtle Finger puppet to make reading and language group experiences engaging and fun for young children.
---
---
---