We can all learn more about each other and learn ways to move forward together. We just need to seek information and have the confidence to try and explore new things together.
This year we explored Sorry Day and Reconciliation Week with an increased sense of confidence and knowledge as a team. All educators have completed in the last few months several webinars from Koori Curriculum as well as spending time as a team with Mark Saddler to learn more about the Wiradjuri Culture.
We began talking about ideas in the weeks leading up and I must say as the long term Director, EC Teacher and Educational Leader I have enjoyed these conversations with my staff individually and as a team. We, of course being us, came up with lots of ideas and so the activities have started and will continue for some time to come as one week is not long enough. We also feel is not the right approach, we want to embed and evolve as a service and build on our understandings and skills so we can better provide for our children and families.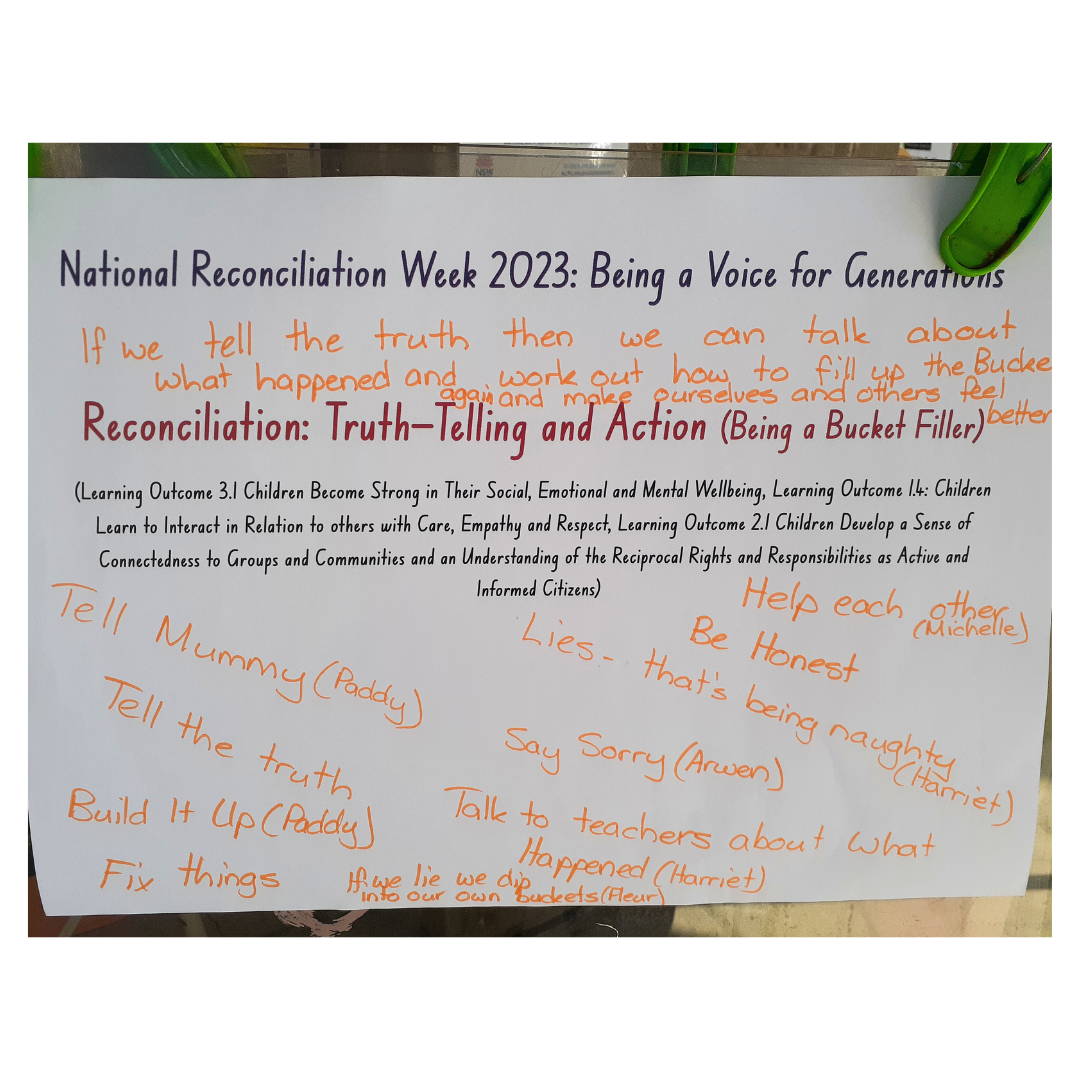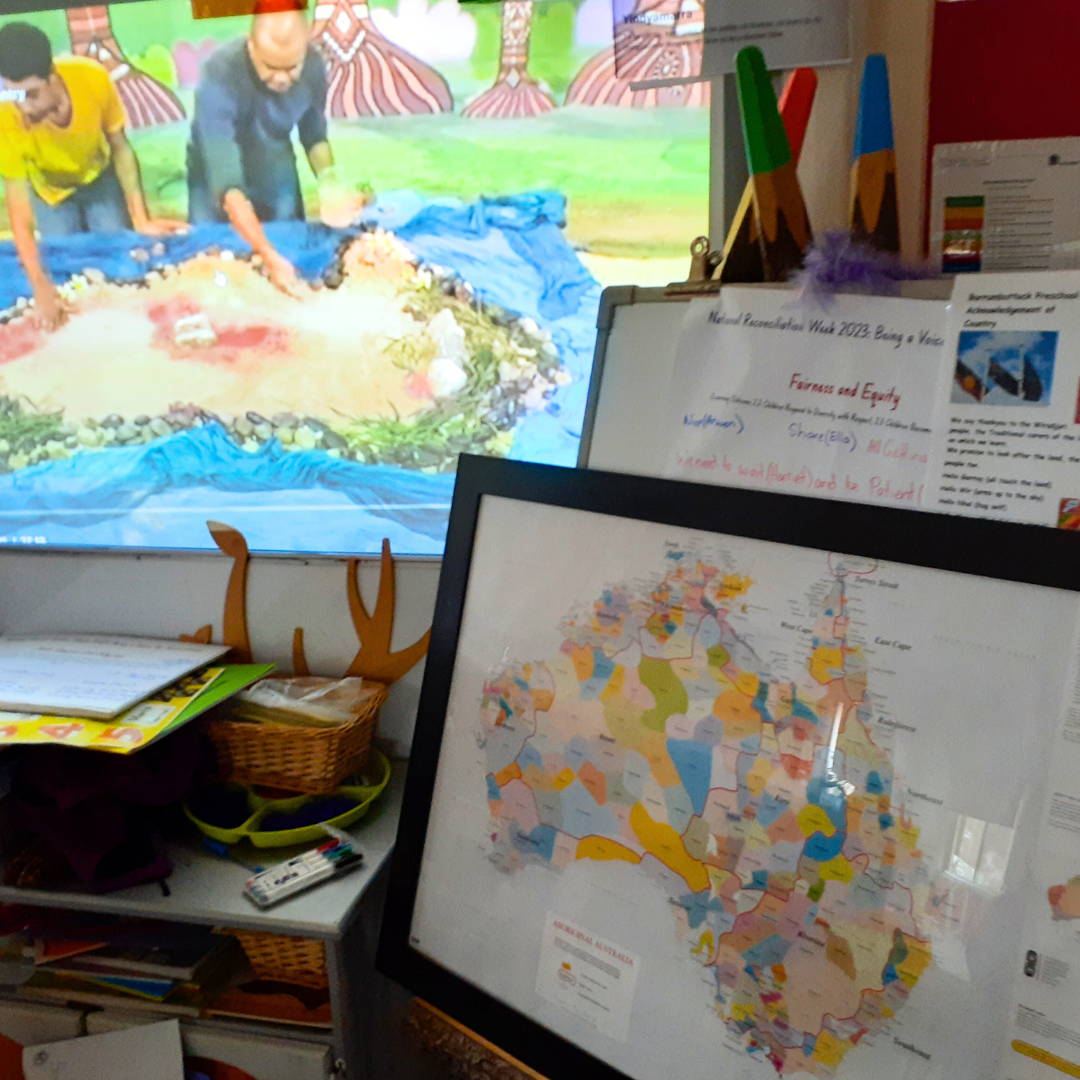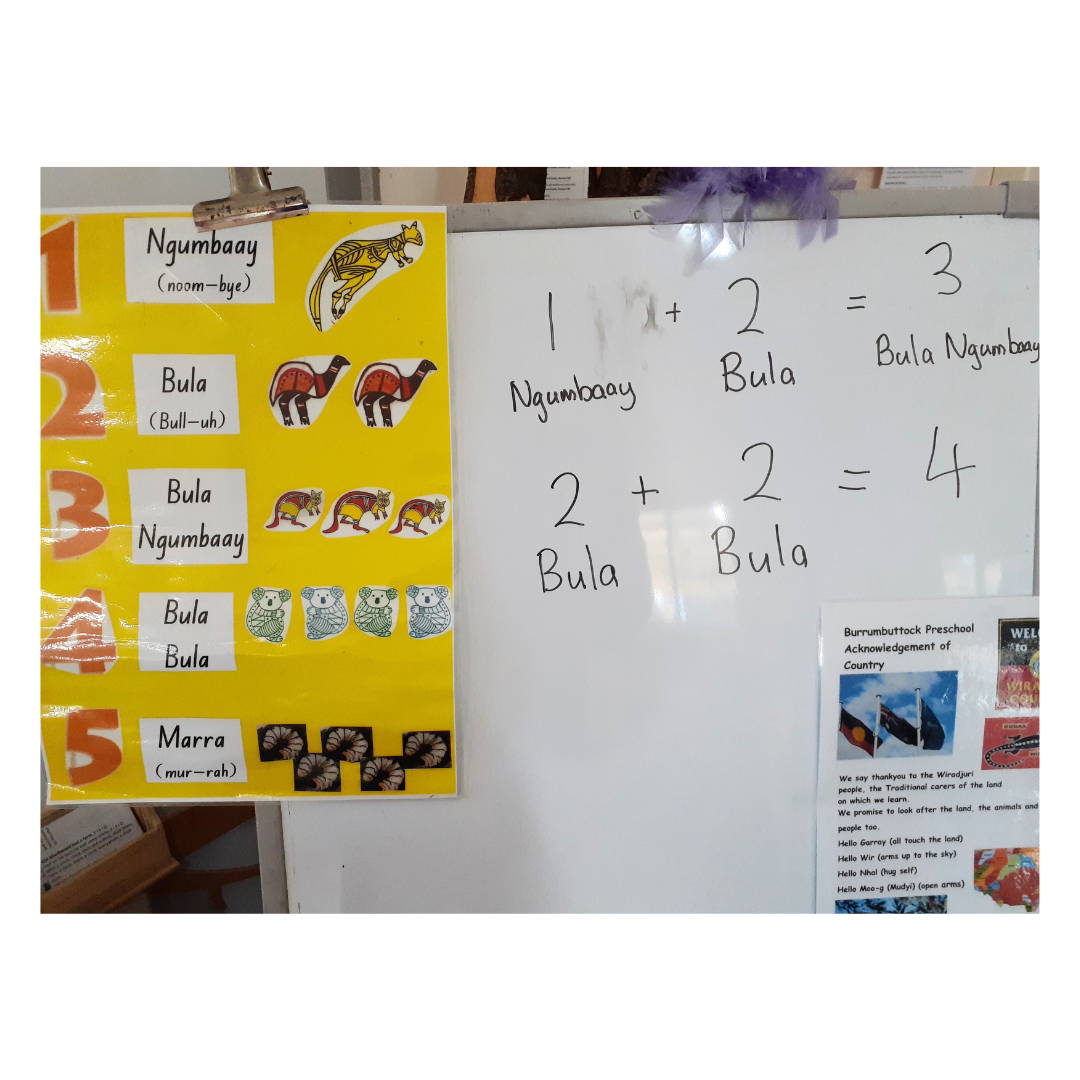 ---
Sorry Day- Started with the Book and Ended with Coffee
---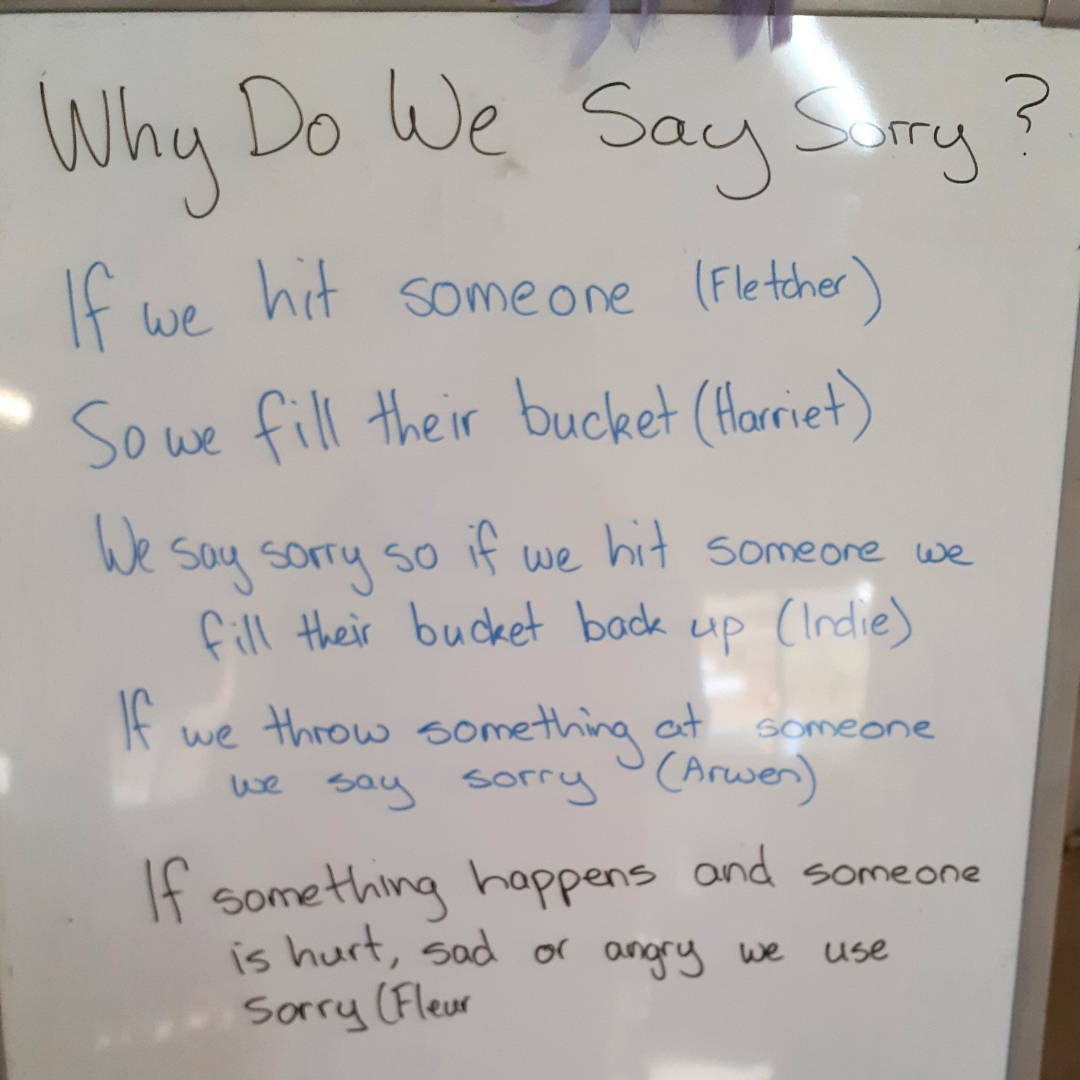 We started our group time on National Sorry Day with the big question WHY DO WE SAY SORRY?
We came up with lots of ideas, including linking this to our Bucket Filling program.
We then watched Sorry Day video of Dub Leffler (the Illustrator) from the National Library of Australia website reading the story. I actually did the correct thing and prepared by watching this video the night before at home.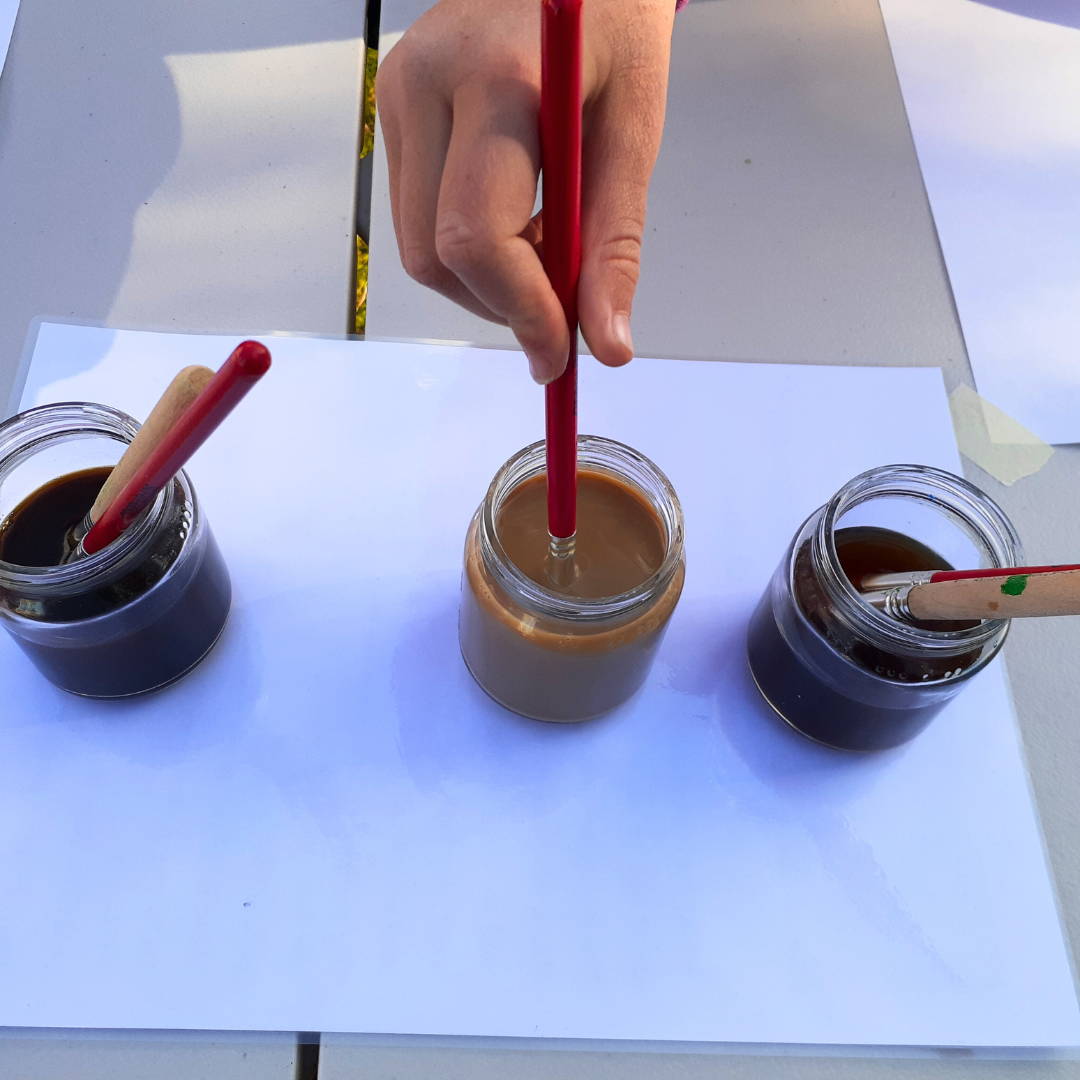 Once the story was finished it kept playing as I was busy preparing something in my kitchen and I found the last few minutes actually showed us how Dub made a lot of the illustrations using coffee and salt. We watched the video to the end at Preschool and then discussed about making coffee to paint with.
This led to a how experience regarding coffee that was very strong, weak and had milk in it to paint with. The children explored this outside and used salt just like Dub did to sprinkle on their work which we scraped off the next day.
I must say we did discuss not dipping a brush into Mums coffee and loved watching one of the children offer her painting to her peer who had been away the previous week when we did it as they had asked the question "Does it Smell Like Coffee?" so the friend said "Here have a smell"
Reconciliation Week: with a focus on how to pack the Theme of Be a Voice for the Generations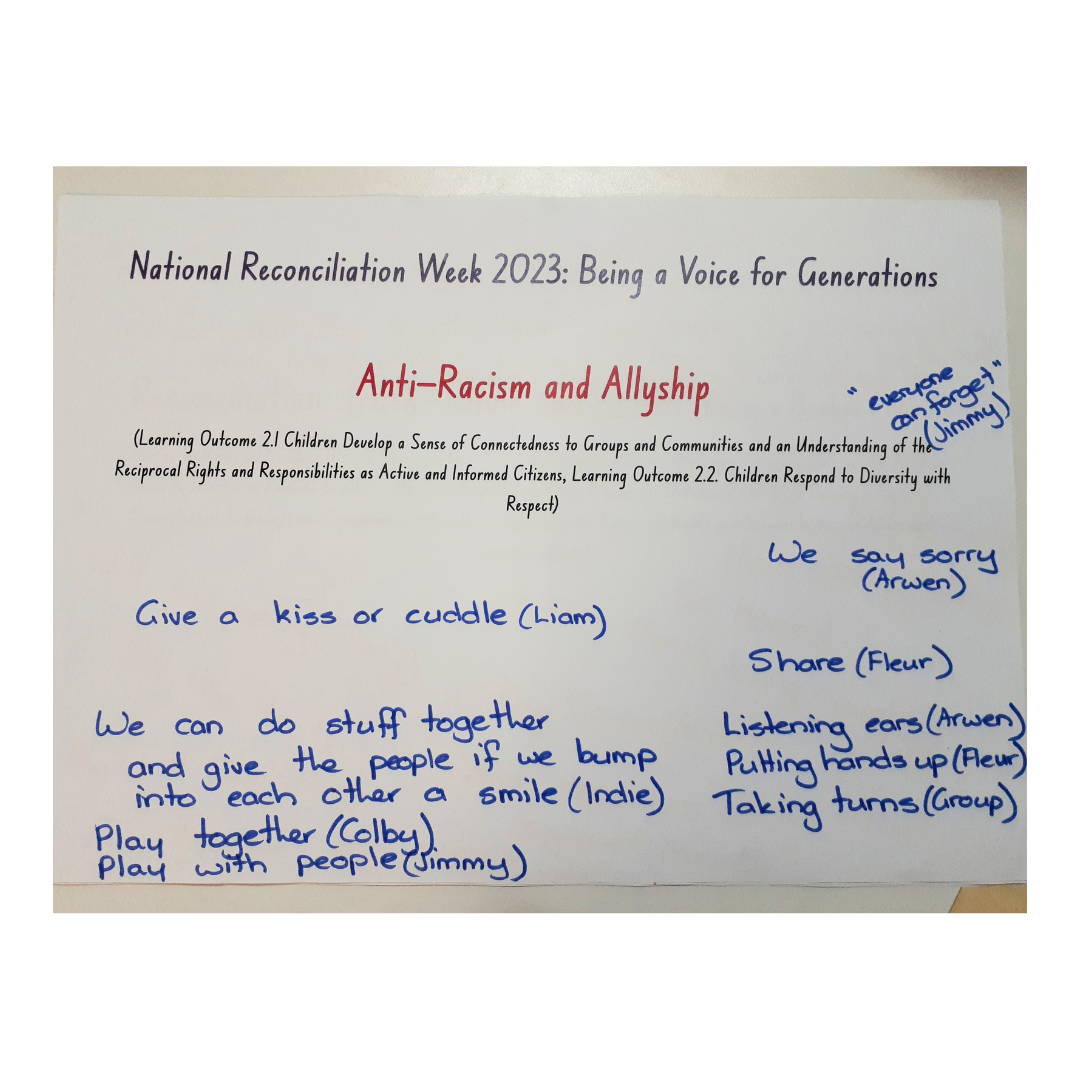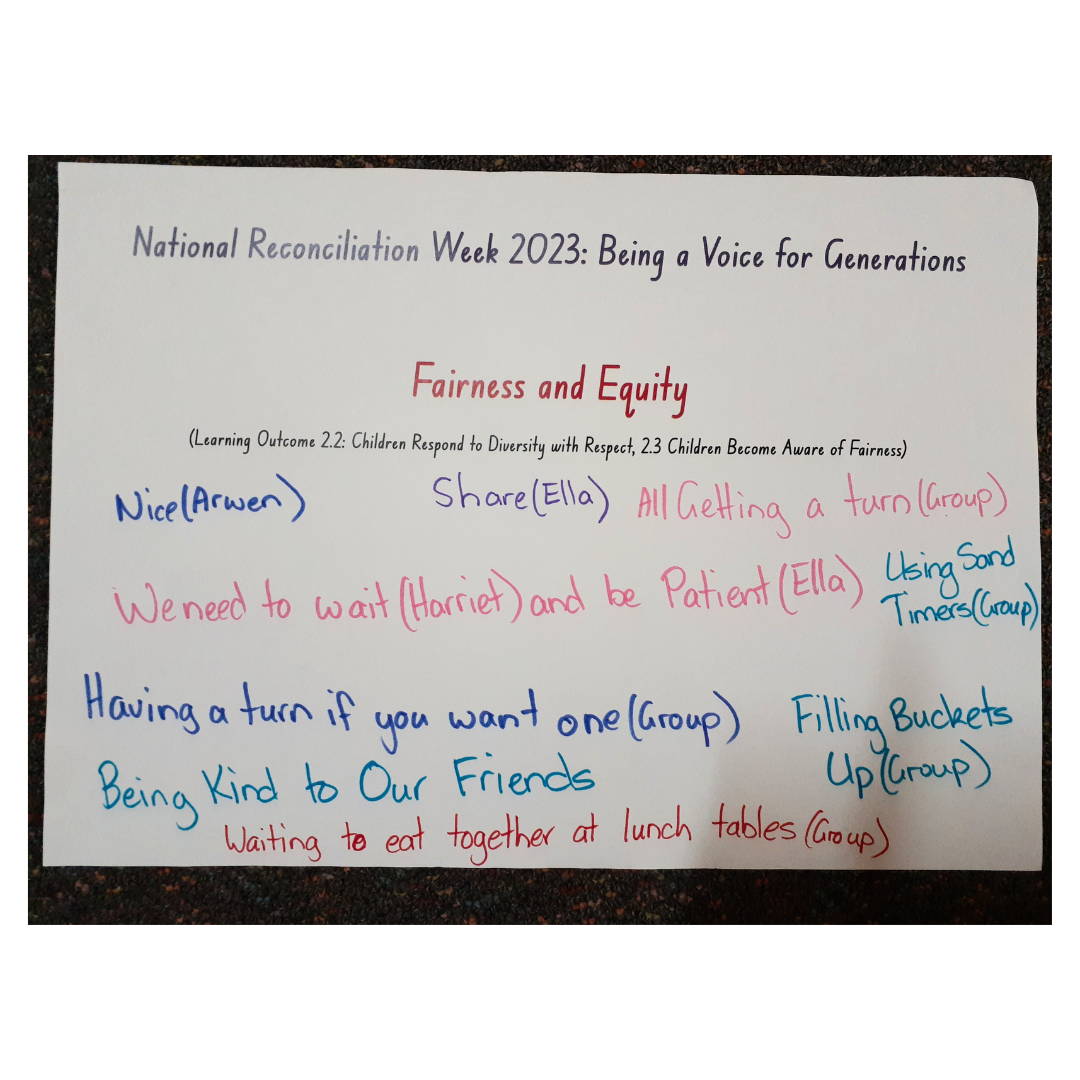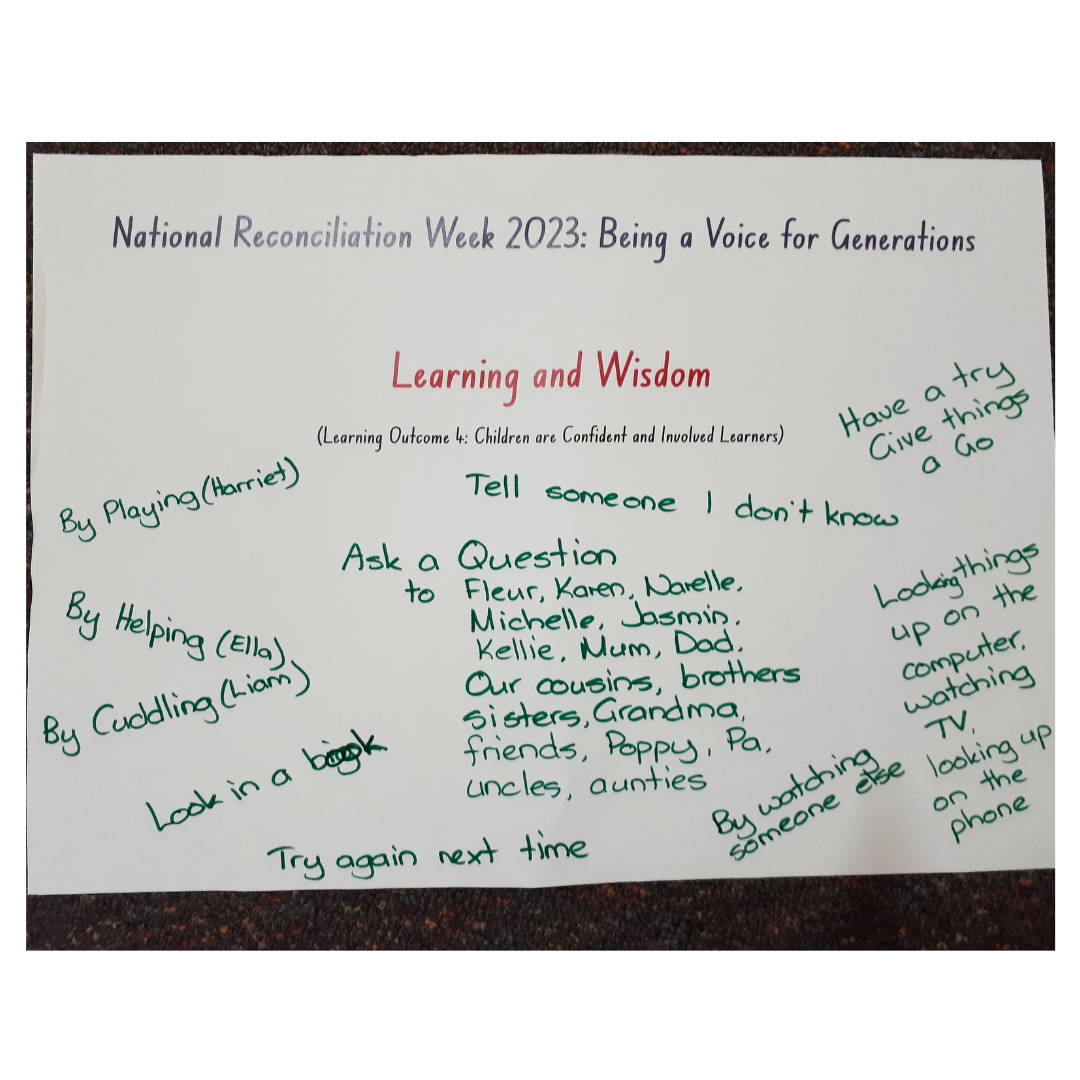 I investigated the Reconciliation website and found the poster with lots of words to explore the theme. In looking at the words I found links to the EYLF and our Bucket Filling Program and Philosophy so decided to create a set of pages to discuss these words and put them into language that is meaningful for our setting and our children aged 3-5.
We started with Reconciliation: Truth Telling and Action (Being a Bucket Filler). We had lots of discussion with the children and included their words on the page with a summary of "If we tell the truth them we can talk about what happened and work out how to fill up a Bucket again and make ourselves and others feel better"
We have completed five different discussion pages, made the Torres Strait Islander flag, explored more about our local Wiradjuri words and symbols through drawing. We have tried to focus on embedding what we do even more so that it will continue as part of daily practice.
Reconciliation Week: Acknowledgement to Country and A Map of Australia
---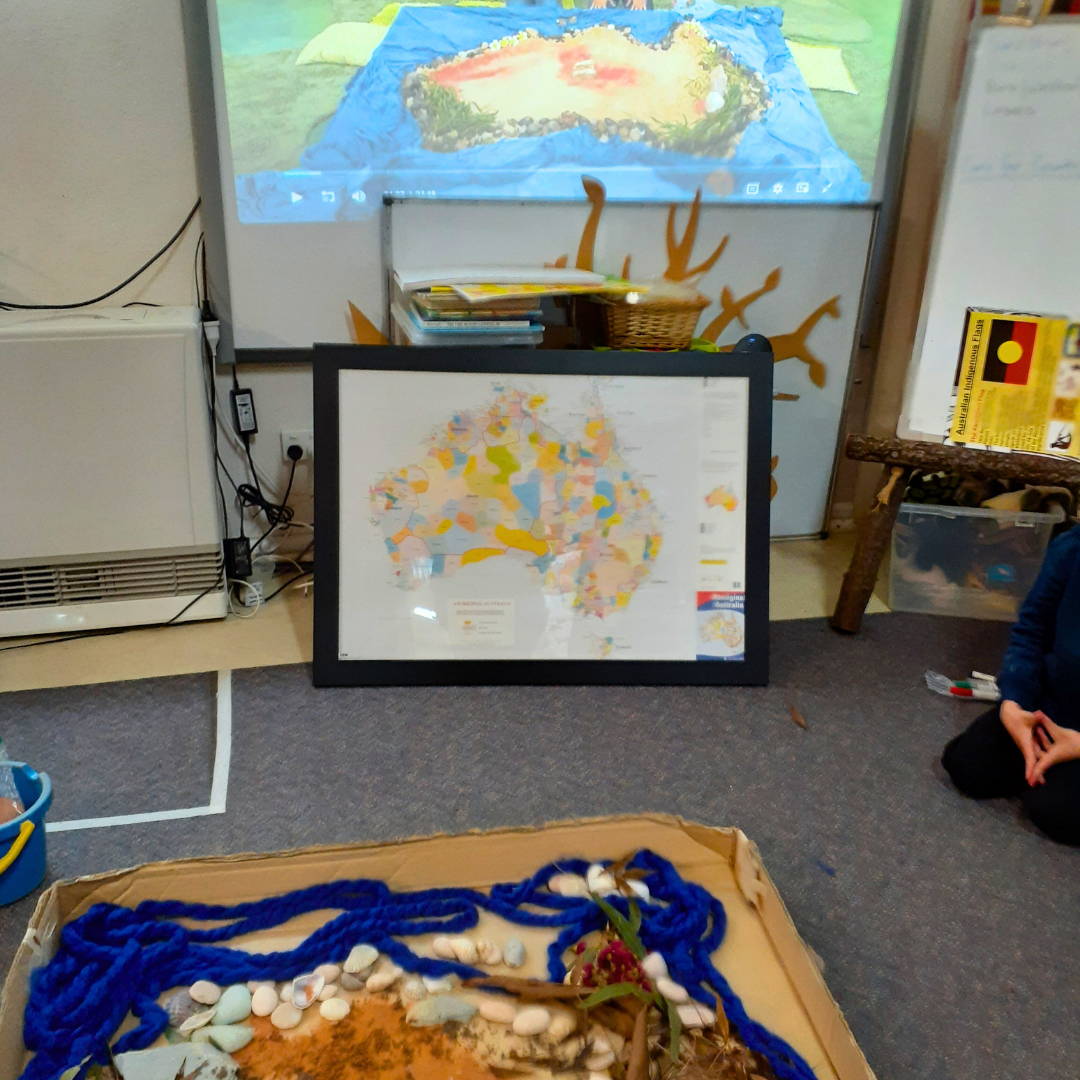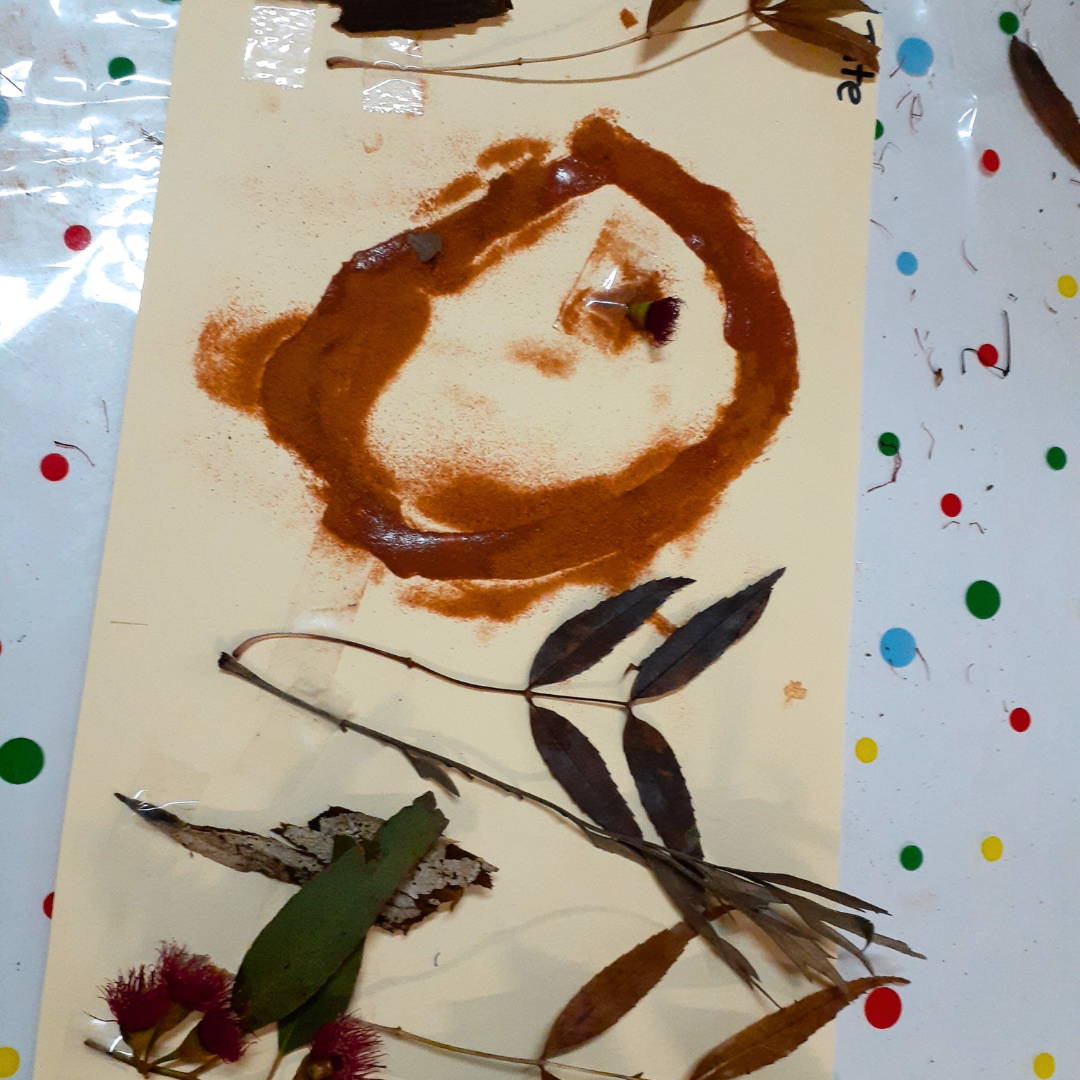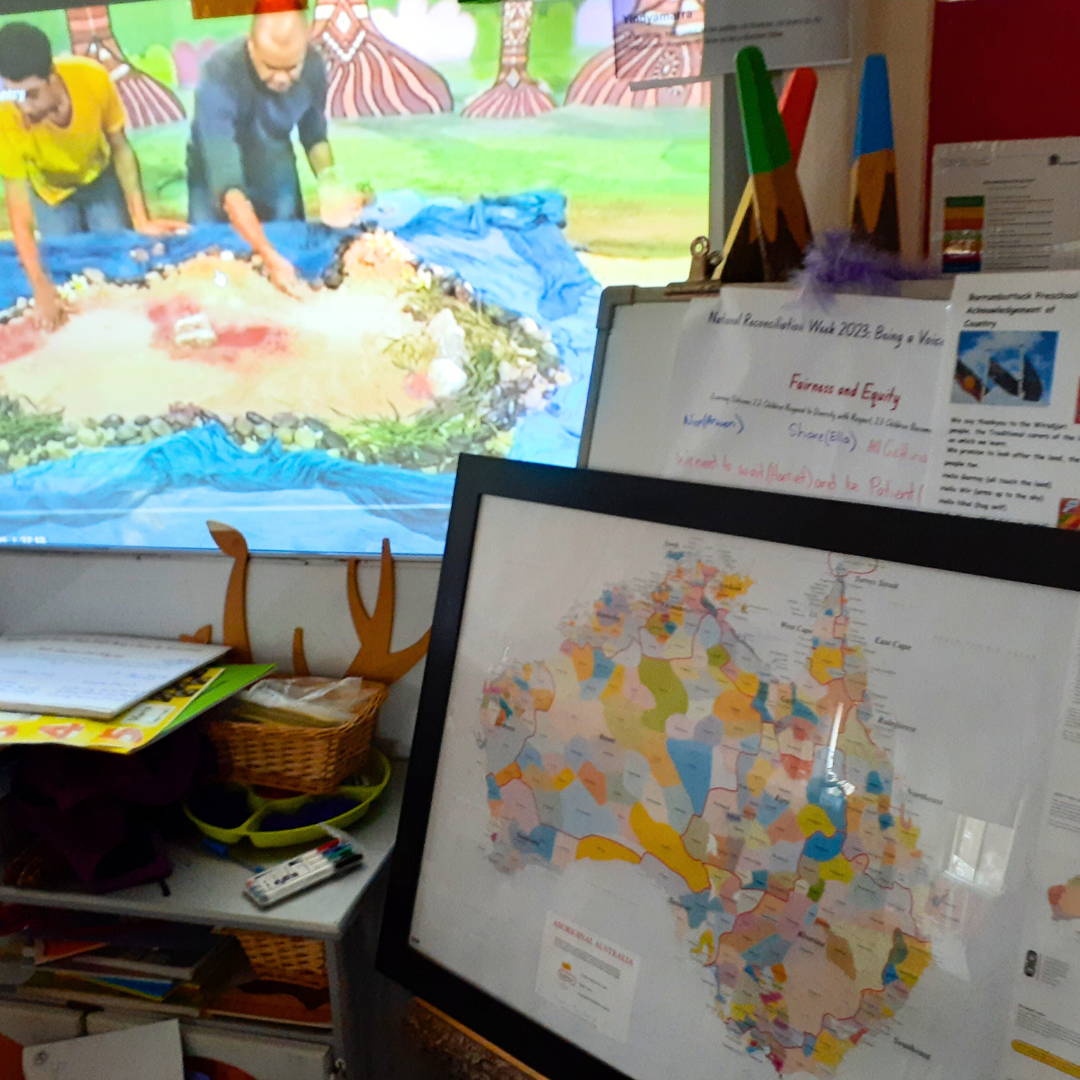 ---
We watched the Playschool Acknowledgement to Country program with the children and we recalled what they used to create their natural collage of Australia. We then decided to source our own resources from our yard even on a particularly wet day so we could then be able to create our own map.
We talked about what we had learnt including what to use, where to put it on the map and about only taking what we needed to use. We found lots of leaves and flowers from our gum trees on the ground due to heavy rain so we collected these rather than taking fresh ones from the trees.
The part of only taking what we needed was hard with a very excited bunch of children outside so yes we go to much. Once we completed our map using an outline of Australia in a large cardboard box we had things left over.
We then used these resources to create our own individual art on the day and the following days. Some items were not used by the end of the week so we completed the cycle of returning them to our garden to provide mulch for our plants.
Story Creation and Addition as a Group: Embedding rather than just exploring
---
We decided to explore story writing as a whole group in relation to a particular observation of two children in our new program. This was not related to Aboriginal culture but as we are gaining our confidence to embed more and follow the new EYLF v2.0 Practices and Principles our first one was a story involving Australian animals. As we created the story we used the Wiradjuri words for Platypus, Tortoise, Murray Cod and Billabong as this relates to our local area.
We have also been exploring adding 2 numbers together so we decided to use the Wiradjuri words for the numbers as well as the English words for the first time ever. Slowly, slowly it is getting easier to embed.
We as a group of teachers and children are learning together and it is a journey that I am proud to be the leader of. I am proud of where we are going as a team of educators who know so much more than we did even 12 months ago.
We are gaining our confidence and skills to really embed the Wiradjuri culture into our everyday program rather than just at certain times of the year or with certain activities, we are now working on it being part of many of the things that we do.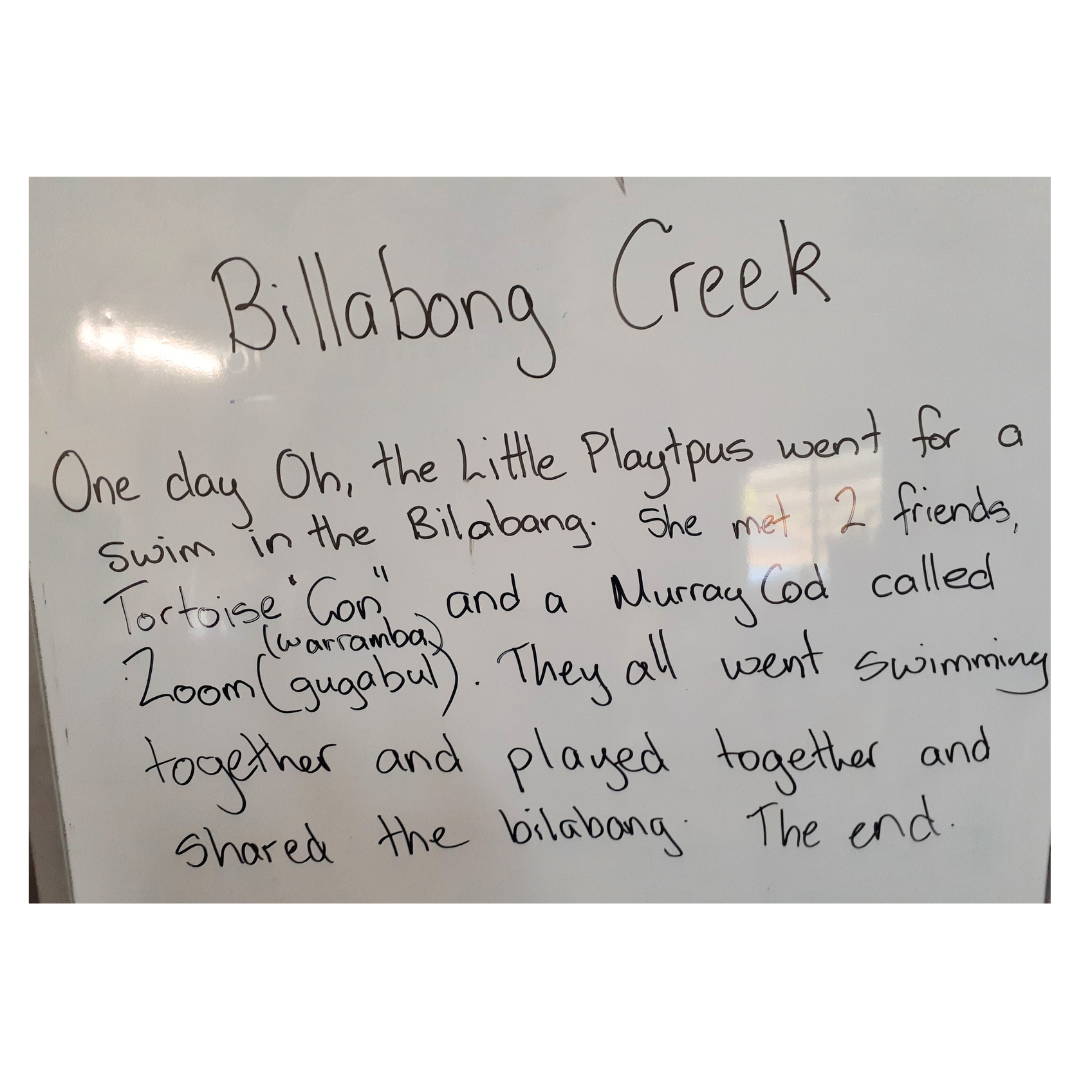 Due to many staff and children being sick over the last 3 weeks we feel that we have only gotten to do some of our ideas justice and we want to explore them all so we will continue.
I have to get my writers involved a great idea of saw on Facebook on how to display our discussion pages about Reconciliation. A staff member has been off sick as we have held off with her idea until she is back on board to get the chance to follow it through.
With thanks from Fleur Hall, Director/EC Teacher/Educational Leader and sometimes even the cleaner of Burrumbuttock Preschool.
---
---