Dr Anita Heiss is a proud member of the Wiradjuri nation of central New South Wales, but was born in Gadigal country and has spent much of her life on Dharawal land near La Perouse. She is one of Australia's most prolific and well-known authors publishing across genres including non-fiction, historical fiction, commercial fiction, and children's novels. Her latest book is "Koori Princess".
Anita's children's literature includes Kicking Goals with Goodesy and Magic, co-written with Adam Goodes and Micheal O'Loughlin. She also wrote two kids' novels with students from La Perouse Public School - Yirra and her deadly dog Demon and Demon Guards the School Yard.
Her adult fiction includes Not Meeting Mr Right, Avoiding Mr Right, Manhattan Dreaming, Paris Dreaming and Tiddas.
Her most recent books include Harry's Secret Matty's Comeback, and Barbed Wire and Cherry Blossoms which was shortlisted for the QLD Literary Awards and longlisted for the Dublin International Literary Prize.
Growing up Wiradjuri is a collection of personal stories by Wiradjuri Elders. The writers are Uncles and Aunties who came of age in New South Wales in the 1950s and 1960s.
In a strong collective voice, they share the difficulties of growing up under the rule of the welfare board. Some describe their experiences of evading capture by the welfare mob, or of being stolen and forced into state care away from their families. Some describe experiencing racism in school, the trials of poverty and family separation.
Alongside the difficulties of marginal life, backbreaking labour and family separation, they also detail their fond memories of their own Elders, Aunts and Uncles who cared for them and taught them culture. Contributors describe happy memories of family and community life on country, working the land, sitting around campfires, hunting, fishing, and playing games in the bush with their cousins, brothers and sisters. They talk about the values that were imparted to them by staunch parents and grandparents, about what it means to come from a family where everyone takes care of each other during hard times, and the work they have done to build stronger communities. Every contributor has important advice to share with the next generation.
Powerful and moving, Bidhi Galing (Big Rain) celebrates the Wiradyuri heroes of the Great Flood of Gundagai in 1852, told through the eyes of a young girl who is rescued from the raging floodwaters by her father.

Wagadhaany grew up near the Marrambidya Bila. She loved dancing in the rain and listening to her father, Yarri, tell her stories about life on Wiradyuri ngurambang.

When white people started building on the floodplains, Yarri was worried. He knew the power of the bila and tried to warn the strangers, but they would not listen.

Years later, the big rains came ...

This is the story of the Great Flood of Gundagai in 1852 and the Wiradyuri heroes, Yarri and Jacky Jacky, who paddled bark canoes through raging floodwaters, risking their lives to save countless others.

Anita Heiss's powerful text, accompanied by Samantha Campbell's evocative illustrations, is a gift of Wiradyuri culture, knowledge and language, sharing a resonant message for our times.
Childhood stories of family, country and belonging.
What is it like to grow up Aboriginal in Australia?
This anthology, compiled by award-winning author Anita Heiss, showcases many diverse voices, experiences and stories in order to answer that question.
This book is a great reflective reading for early childhood educators.
Koori Princess By Anita Heiss

An insightful and humorous story of a young girl's determination to be who she wants to be.
Karan rolls her eyes. 'What's this year's theme? Oh no, let me guess,' she looks into the distance, pretending to ponder the possibilities. Sarcastically she asks, 'Is it ... could it possibly be ... a princess party?'
Teish is a sassy, soon-to-be 7-year-old and the apple of her dad's eye. She believes more than anything, that she is a Disney princess. Her older siblings, Karan and Kim, like to remind her that she isn't. Teish is determined to believe that she can be whoever she wants to be.
With the help of boisterous, irreverent cousins and friends, a princesses-of-colour party with all the trimmings and an adventure to the beach, Teish teaches her family that she can be a princess and remain true to herself.
But will her siblings accept her being a feisty Koori Princess?
Kicking Goals with Goodesy and Magic by Adam Goodes & Anita Heiss
AFL legends Adam Goodes and Michael O'Loughlin are blood brothers and great mates. They are also two of the best footballers ever to play for the Sydney Swans.

Between them, they played over 650 games and kicked over 900 goals. But what were Goodesy and Magic like when they were kids? What kind of scrapes did they get into at school? And what was it like to go from being normal teenagers to AFL superstars?

Find out all this and much more in Kicking Goals, the story of Adam and Michael's friendship in their own words, as told to Anita Heiss.
Author: Adam Goodes, Anita Heiss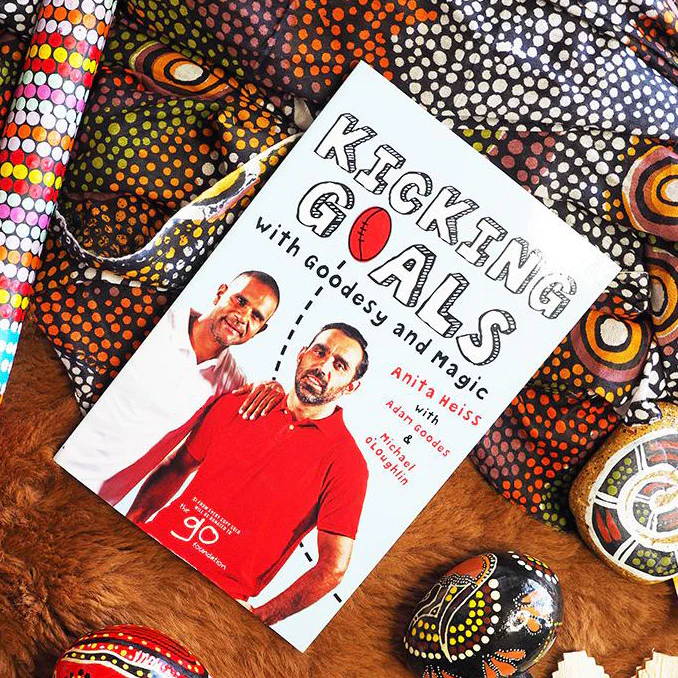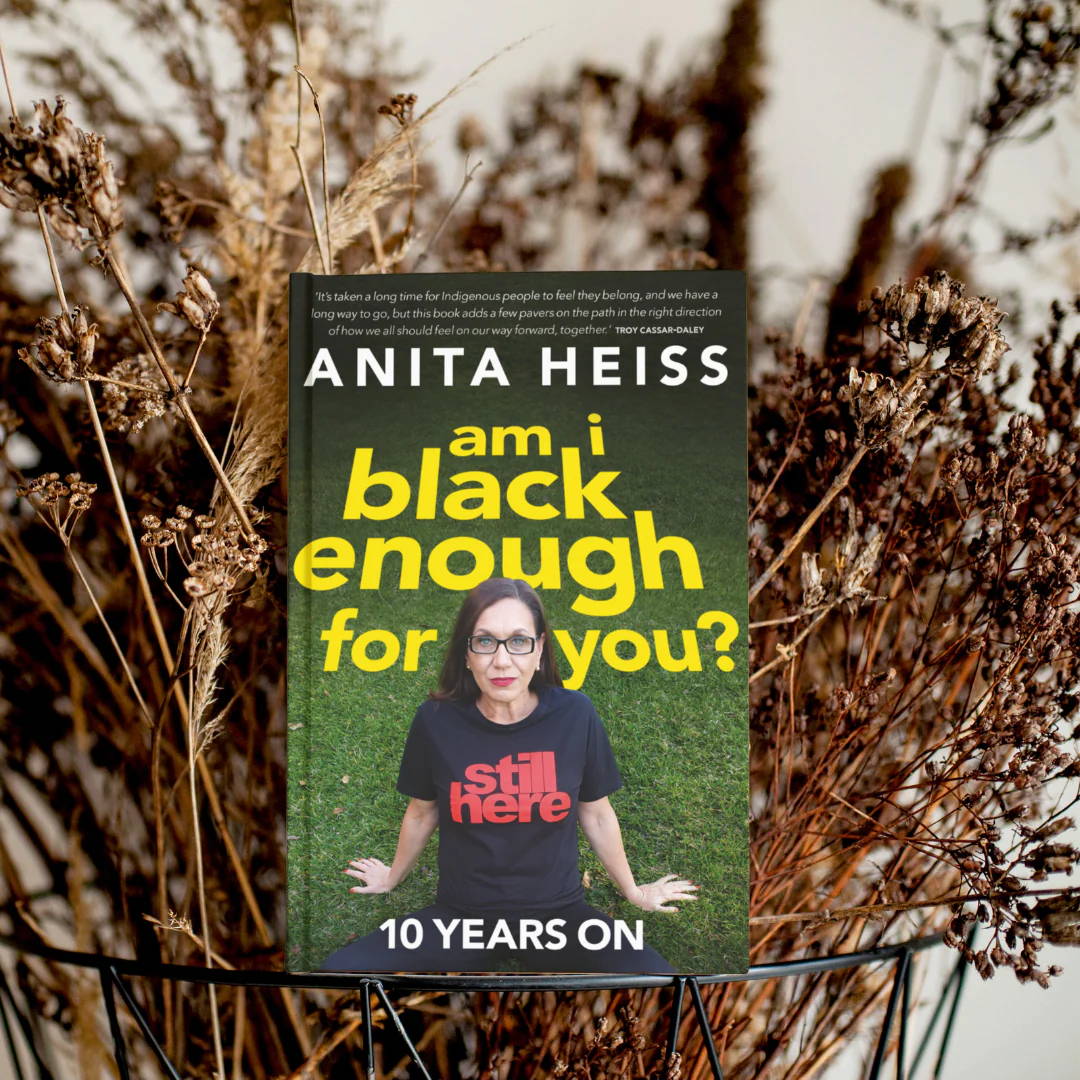 Am I Black Enough For You? 10 Years On by Anita Heiss
The story of an urban-based high achieving Wiradyuri woman working to break down stereotypes and build bridges between black and white Australia.

I'm Aboriginal. I'm just not the Aboriginal person a lot of people want or expect me to be.

What does it mean to be Aboriginal? Why is Australia so obsessed with notions of identity? Anita Heiss, successful author and passionate advocate for Aboriginal literacy, rights and representation, was born a member of the Wiradyuri nation of central New South Wales but was raised in the suburbs of Sydney and educated at the local Catholic school.

In this heartfelt and revealing memoir, told in her distinctive, wry style, with large doses of humour, Anita Heiss gives a firsthand account of her experiences as a woman with a Wiradyuri mother and Austrian father. Anita explains the development of her activist consciousness, how she strives to be happy and healthy, and the work she undertakes every day to ensure the world she leaves behind will be more equitable and understanding than it is today.