Samantha Campbell is a published Children's Book Illustrator & Graphic Designer based in Alice Springs, Northern Territory.
Samantha is descended from the Dagoman people from Katherine and as a child lived in remote Aboriginal communities across the Top End. Samantha studied Graphic Design in Melbourne in 2013 and worked as a freelance Graphic Designer for four years before illustrating her first children's book Alfred's War, written by Rachel Bin Salleh (Alfred's War was later shortlisted for two literary awards).
Since then, she has become hooked on illustrating children's books, and continues to work as a Graphic Designer and illustrator for Coolamon Creative.
Powerful and moving, Bidhi Galing (Big Rain) celebrates the Wiradyuri heroes of the Great Flood of Gundagai in 1852, told through the eyes of a young girl who is rescued from the raging floodwaters by her father.

Wagadhaany grew up near the Marrambidya Bila. She loved dancing in the rain and listening to her father, Yarri, tell her stories about life on Wiradyuri ngurambang.

When white people started building on the floodplains, Yarri was worried. He knew the power of the bila and tried to warn the strangers, but they would not listen.

Years later, the big rains came ...

This is the story of the Great Flood of Gundagai in 1852 and the Wiradyuri heroes, Yarri and Jacky Jacky, who paddled bark canoes through raging floodwaters, risking their lives to save countless others.

Anita Heiss's powerful text, accompanied by Samantha Campbell's evocative illustrations, is a gift of Wiradyuri culture, knowledge and language, sharing a resonant message for our times.
Alfred's War is a powerful story that unmasks the lack of recognition given to Australian Indigenous servicemen who returned from the WWI battlelines.
An empowering, uplifting picture book about what it is that makes you who you are, from the award-winning authors of Black Cockatoo.
Spikes on the bottom boots,
my favourite colour boots,
making me too deadly.
Can the shoes on your feet really make you jump higher? Walk taller? Dream bigger?
A joyous, empowering story about finding confidence within yourself, boots or no boots, from the award-winning authors of Black Cockatoo.
Aunty's Wedding by Miranda Tapsell & Joshua Tyler

A Tiwi-Island girl prepares for Aunty's wedding with help from her maningawu in this vibrant picture book by the popular actor and writers of Top End Wedding and the highly acclaimed illustrator of Alfred's War.

Everyone on the island is getting ready for Aunty's wedding. Maningawu puts on her best hat and I can wear a wurrijinga in my hair. Lucky! We all dress up, but I still don't understand. Why do people have a wedding?

A warm family story that celebrates love and culture from actor, activist, writer and Australian sweetheart, Miranda Tapsell, and Joshua Tyler, co-writer of Top End Wedding, lushly illustrated by Samantha Fry.
Brother Moon by Maree McCarthy Yoelu

Great-Grandpa Liman lives in a small house by the sea. There are no lights — just stars as far as the eye can see.

Brother Moon is a powerful story lovingly told by a great-grandfather to his great-grandson. Beneath the dark sky of the Northern Territory, Hippy-Boy is captivated when Great-Grandpa Liman tells him the mysterious story of his brother and how it guides his connection to Country.

Great-Grandpa is a masterful storyteller and, as the tale unfolds, he finally reveals his brother is the moon — a wonder of the universe. Hippy-Boy learns how his greatgrandfather uses the phases of the moon when he goes hunting and fishing, and why it is important for us all to have an understanding of the natural world.

Liman (Harry Morgan), the author's grandfather, was a respected Wadjigany man — a leader amongst his people and the community. Liman was born at Manjimamany in the Northern Territory in 1916. He was a canoe maker, hunter, community mediator, and a family man who lived off the land and travelled the seas. Liman spoke Batjamalh, his first language, and other languages from the Daly River area.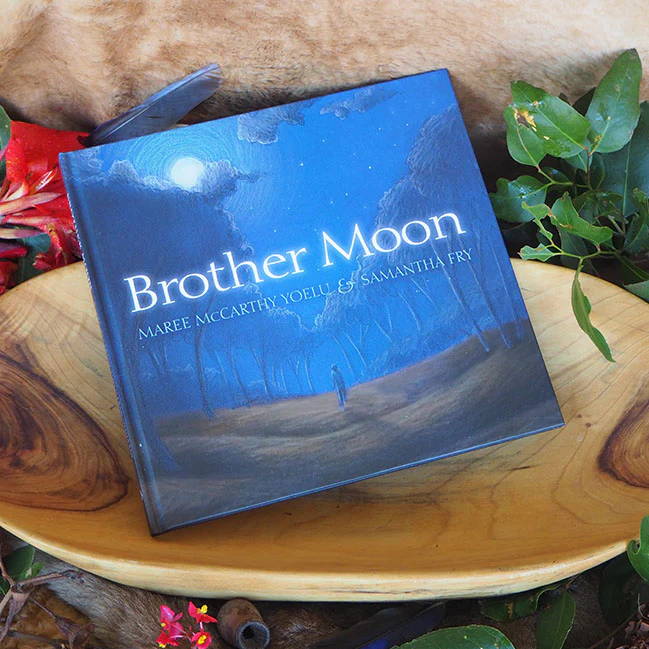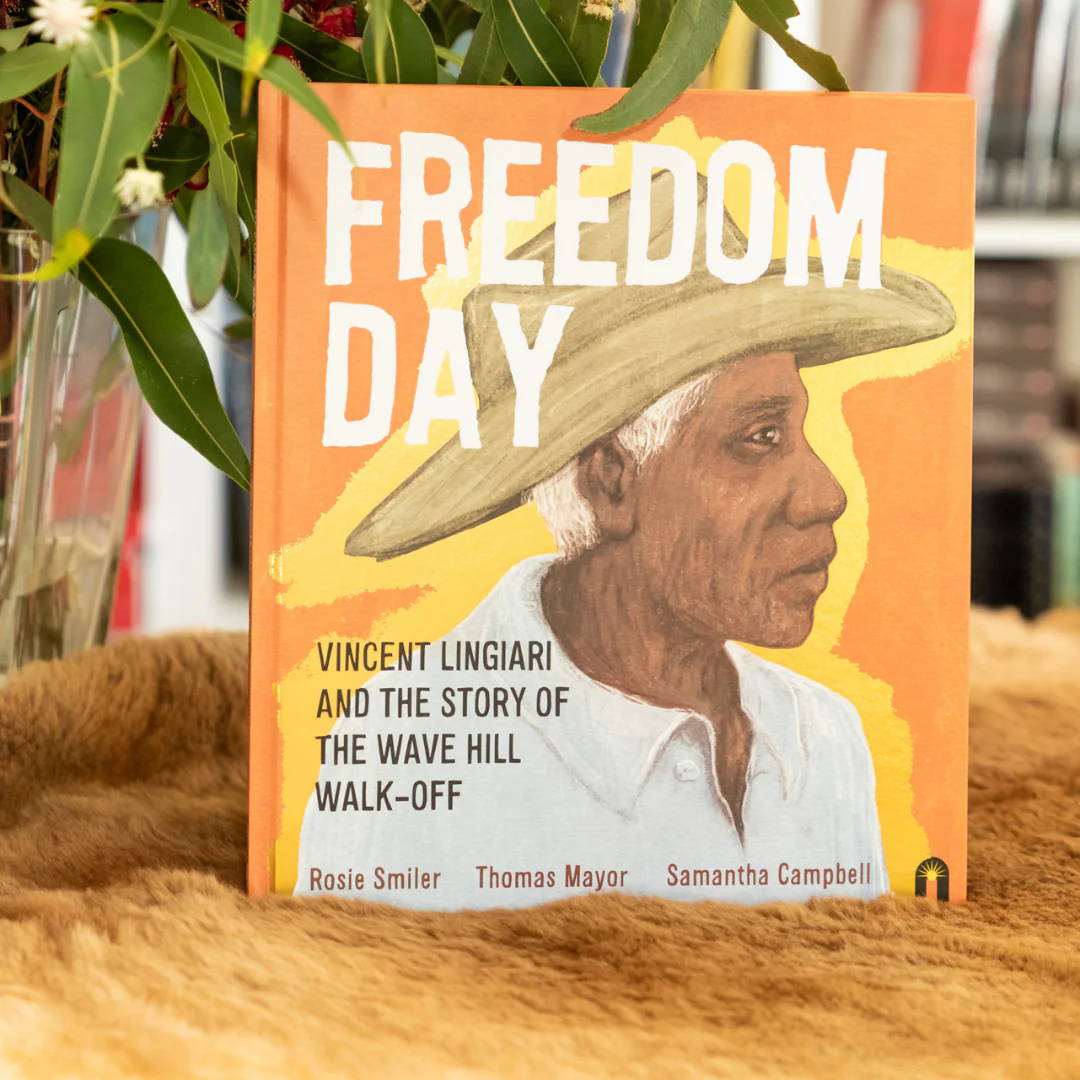 Freedom Day by Thomas Mayor, Rosie Smiler & Samantha Campbell
In 1966, more than two hundred courageous Aboriginal people walked off the Wave Hill Cattle Station in the Northern Territory. Led by Vincent Lingiari, these stockmen and their families were walking together to fight for equal pay and land rights.

Exquisitely illustrated and designed, this non-fiction picture book brings a landmark historical event to a new generation. Many people have seen the iconic photograph of Gough Whitlam pouring a handful of red soil into the hands of Vincent Lingiari – a symbol of the legal transfer of Gurindji land back to the Gurindji people – and recognise this as a key moment in the ongoing land rights movement. Freedom Day delves into the events that led up to this moment, and makes a rallying cry for the things that still need to change in its wake. Thomas Mayor co-authors this book with Rosie, Vincent Lingiari's granddaughter, to bring this vital story to life. The story has been written in close consultation with the Lingiari family.
Luwa Tara Luwa Waypa by Dave Mangenner Gough, Samantha Campbell (Illustrator)
Niyakara is leaving the village to hunt tara, kangaroo.
On his mind is the chief's daughter, Tuminana, who is at the water with the women, collecting shells and working.
But down on the beach, Niyakara hears three thuds...
boom boom boom
With rhythmic intensity, Luwa Tara Luwa Waypa tells the captivating story of Niyakara's journey from boy to man, a story of courage and transformation.
Dave Mangenner Gough's powerful words and Samantha Campbell's expressive artwork bring to vivid life the ancestral spirit and enduring strength of the Palawa people of Tasmania.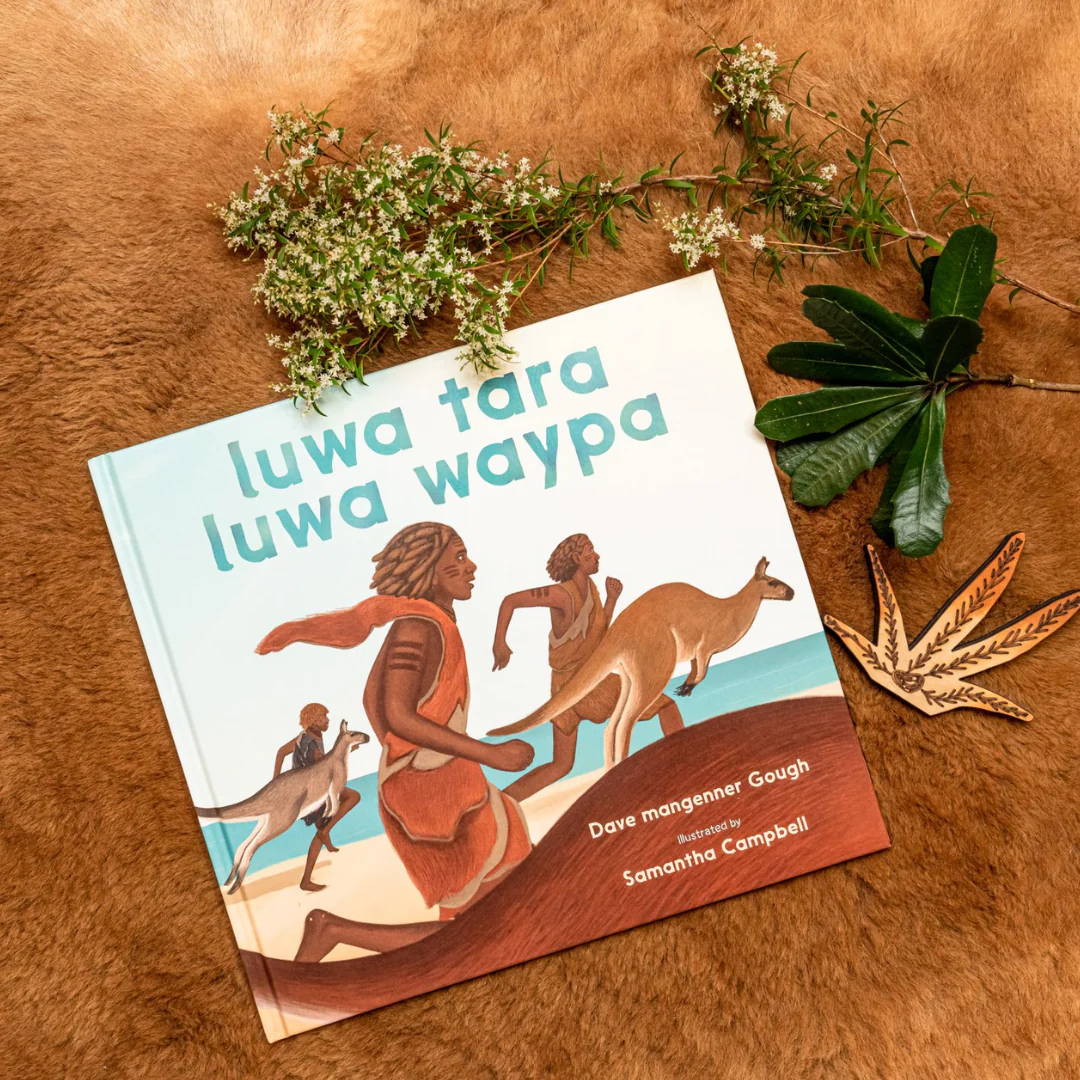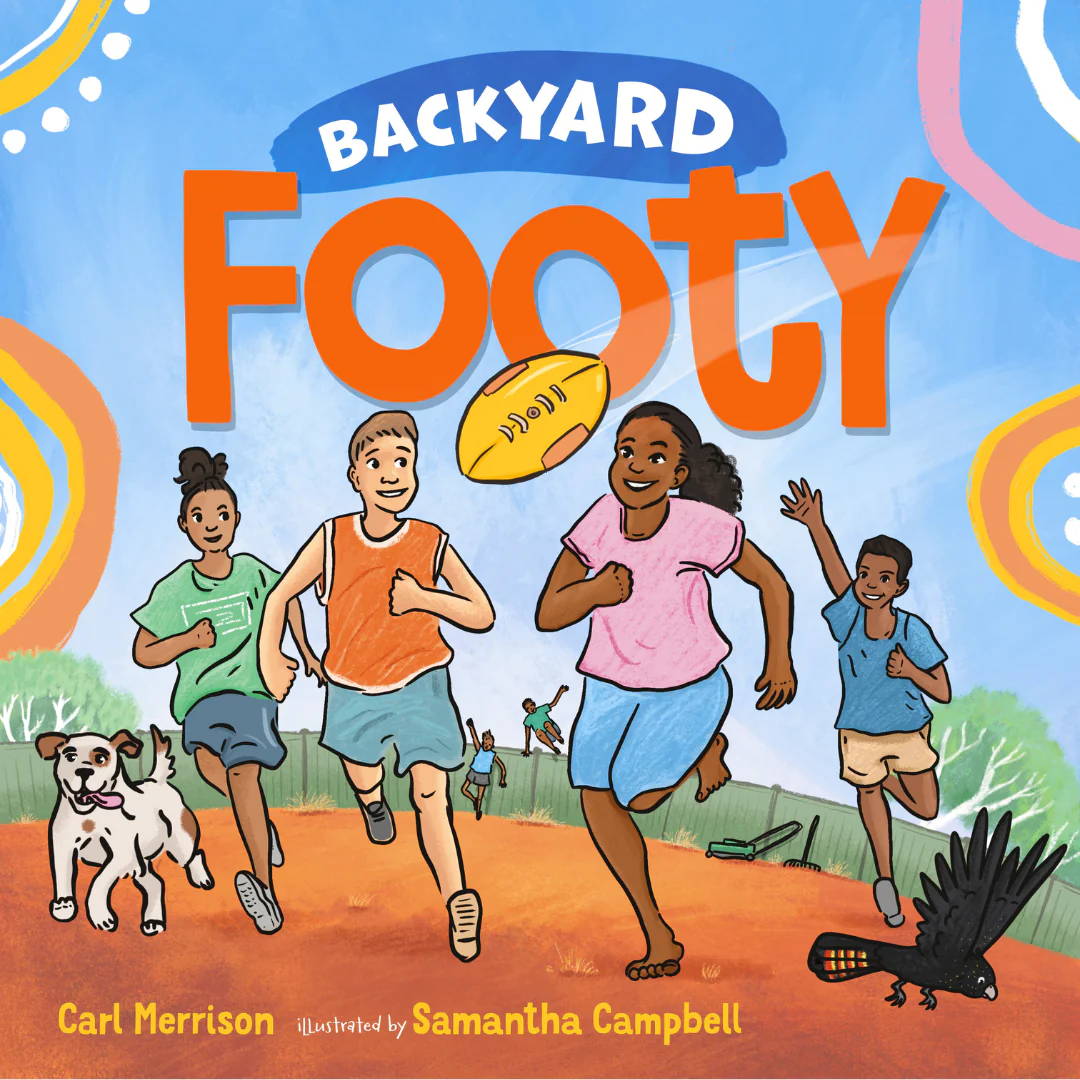 Backyard Footy by Carl Merrison, Samantha Campbell (Illustrator)
Jy is playing football alone in his small backyard in the Kimberley, but when he accidentally kicks the ball over the fence, a footy adventure begins! Footy by yourself is fun but playing with mates is better.

The first title in a joyful black&write! Fellowship-winning series, where the fun only grows with family and friends!