I, like many have been glad to leave 2020 behind and start a fresh in 2021. I have been spending the past month recharging for the year ahead by grounding myself in culture and by connecting with country and family. Here is a glimpse of some of things that I have been up to.
Visit to the Maritime Museum
A few weeks ago, I visited the Maritime Museum with my Mum to view some of the Indigenous exhibitions that are part of the Sydney Festival. As I walked through the entrance of the museum, I was greeted by the marine ecology installation created by Torres Strait Islander and non-Indigenous collaborating artists from Erub Art on Darnley Island in the Torres Strait.
I have been a long-time follower of the Erub Artists also known as the Ghost Net Weavers and it was sensational to once again see their celebrated work in person. The installation was made from abandoned fishing nets and recycled plastics that if left in the ocean would cause significant damage to marine life and general ecosystem. This particular curation featured an outrigger canoe, schools of fish, turtles, squid, jellyfish and the coral reef which I felt would be great provocation for children to explore who were interested in "under the sea" or educators wanted to instil sustainability values and practices.
You can learn more about this art movement yourself by visiting Au Karem Ira Lamar Lu – Ghost Nets of the Ocean - Australian National Maritime Museum (sea.museum)
Another stand out exhibition at the Maritime was the "Defying Empire: 3rd National Indigenous Triennial" which features the prolific work of thirty contemporary Indigenous artists from across the Country. This collection was specifically curated to commemorate the 50th anniversary of the 1967 Referendum that recognised Indigenous peoples as Australians for the first time.
I found it incredibly inspiring to see the artists messages of activism and social justice being shared through their art. We have since added the book "Defying Empire" to our online book so educators and children engaging in anti-bias practices can also learn and experience the exhibition. You can view it here: Defying Empire: 3rd National Indigenous Art Triennial - National Galle – Koori Curriculum
GirriGirra Art Exhibition
A highlight of my January was visiting the GirriGirra Art Exhibition in Wollombi. I had previously had the honour meeting Tim Selwyn the Director of GirriGirra many years ago at a community event on the coast and found him to be an incredible generous person who openly shared and embraced me. It was great not only to see the incredible work that Tim had been producing predominately during the pandemic but to reconnect and learn about the cultural protocols behind his woodwork.
If you are a Central Coast local or planning on visiting be sure to reach out to Tim and partake in one of his local Aboriginal cultural tours.
Girri Girra - Aboriginal Experiences on the NSW Central Coast
Mt Penang and The Regional Hunter Valley Botanical Gardens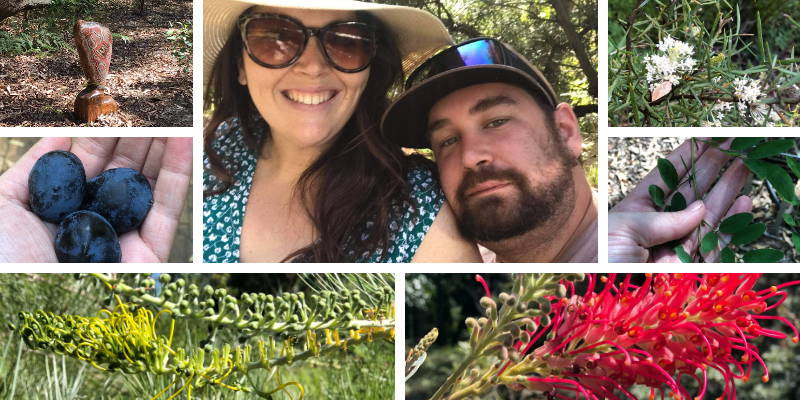 Over the break I have been spending a lot of time in my own garden which is my happy place. We have been consistently acquiring and adding new native plants to produce a buffet of food for our local native birds and wildlife. However, I also enjoy visiting botanical gardens when I can to continue my learning.
Mt Penang is local to me on the Central Coast and I have visited here a couple of times with friends recently. At this time of year our bush tucker plants are plentiful and bursting with fruit. I happened across and sampled both some Illawarra and Davidson Plums. I was also able to spot a couple of developing Bunya Nuts which I hope to be able to collect in a few more weeks when they drop.
The Hunter Valley Regional Botanical Gardens is a definite must visit. It has 130 hectares of preserved natural bushlands with Aboriginal specific curated bush tucker gardens. The walks have great signage with detailed descriptions of Aboriginal traditional uses for the plants which was really helpful.

A huge part of January for us has been the launch of our new membership The Koori Curriculum Club. So far, we have welcomed over 200 educators into our exclusive community. We are super excited to be surrounding ourselves with passionate like-minded individuals who we can yarn and learn with throughout 2021.
Our membership doors will be closing in a few weeks so there is still time to register. Learn more about what is on offer by visiting Koori Curriculum Club